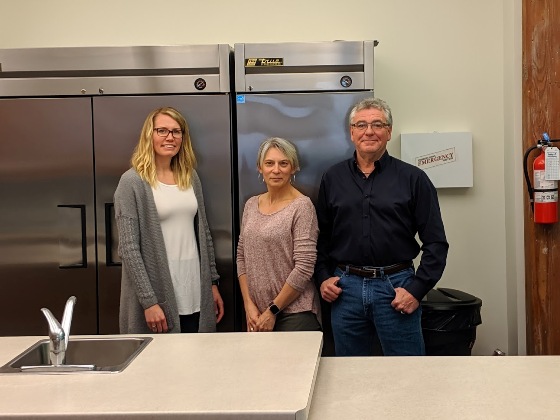 Operation Sharing and Indwell announced a new partnership today that will see Bullwinkle's operating every Tuesday and Thursday at the Harvey Woods Lofts in Woodstock.
WOODSTOCK - Bullwinkle's Eatery has found a new location on Van Ave at the Harvey Woods Lofts.
Operation Sharing and Indwell announced the new partnership today.
Bullwinkle's will start serving meals once again on June 4th at the new location, with the same restaurant style and sliding scale pricing. Everyone in the community is invited to the restaurant every Tuesday and Thursday from 11:45 am to 1:30 p.m. The sliding scale means that the less fortunate in our community only need to pay $1 for a delicious buffet style meal, guaranteed to have protein options for both meat eaters and vegetarians. Those with the means are asked to pay $7 for their meal.
Trainer and Chef at Bullwinkle's Eatery and Hospitality Centre Vanessa Page says she has a group of participants who are ready to start cooking.
"We are just thrilled, I have spoken with the participants who were part of the program when we finished up at the moose and they are more than happy to come on board. We have partnered with WDDS, we have a couple coming from there and they just can't wait. They are excited to be helpful and find some new skills. I actually just made the announcement to those participants last week and they are just thrilled and I'm excited too, I have already started menu planning."
Since Bullwinkle's has started at least 10 people have moved onto full time employment through the hospitality training. It is free for anyone to sign up as a participant and they learn a tremendous number of skills on how to work in a restaurant and catering. Operation Sharing actually does a lot of catering in town through the Bullwinkle's program, including the Oxford County staff Christmas party every year.
Oxford Regional Manager for Indwell Natasha Thuemler says they are thrilled with this partnerships with Operation Sharing.
"When we learned that Bullwinkle's was looking for a new space, I reached out to Operation Sharing to see if the Harvey Woods Lofts space would meet there needs. Our kitchen and atrium were designed with the hopes and intentions to build and connect community to create places were people feel safe and a sense of belonging and we quickly learned that partnering with Bullwinkle's would help make that dream come true. Overall I think that when there is opportunity for organizations to work together to benefit the community, everybody wins."
Thuemler says they will have measures in place to make sure everyone stays in the common space and are not able to wander the halls or get inside the apartments. She says it is not going to take long to get the Indwell kitchen ready for the regular Bullwinkle's customers.
Last month Operation Sharing and the Moose Lodge parted ways after doing Bullwinkle's for three years. Chaplain and Executive Director at Operation Sharing Stephen Giuliano says they are not going to get into the specifics of why the partnership ended with the Moose Lodge. He did want to offer them a sincere thank you for allowing Operation Sharing to use their building free of charge through the Bullwinkle's program. He also wanted to thank Sierra Construction and all of the volunteers who helped them renovate the Moose Lodge to give it a restaurant feel for Bullwinkle's.
The partnership with Indwell and Operation Sharing will see Operation Sharing pay them a small fee every year to host Bullwinkle's at the Harvey Woods Lofts.