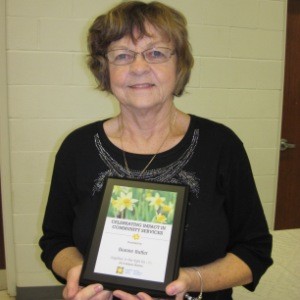 Local breast cancer survivor Dianne Butler is the recipient of the Canadian Cancer Society Oxford's Celebrating Impact in Community Services Award.
WOODSTOCK - A local cancer survivor has been recognized for the work she has done in support of the Canadian Cancer Society.
As Oxford Branch Manager Janis Cunningham highlights, Dianne Butler is a breast cancer survivor who has been a volunteer with the Canadian Cancer Society since 1998, having worked with the Tillsonburg Relay for Life and as a driver for the Wheels of Hope transportation program..."Dianne also facilitates a support group for breast cancer survivors in Tillsonburg and she was a peer support volunteer."
Cunningham says that Butler embodies the core values of the Society which are: caring, courage, integrity and progressive, as well as demonstrates exceptional community impact, commitment, and dedication to the Canadian Cancer Society's mission. "[Dianne] has just become very involved in wanting to help support other women. In fact in the last 10 years she's officially supported over 75 women in our one-on-one peer support matches as well as being just that community person that people turn to when they are faced with a new diagnosis and a wealth of information."
Butler was awarded the Celebrating Impact in Community Services Award during the Canadian Cancer Society Oxford's biannual After Breast Cancer support group luncheon back in November.