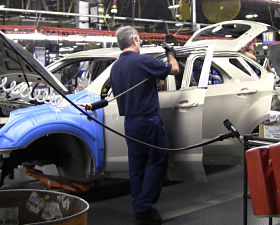 The GM Cami Ingersoll plant is going to lay off 600 employees with production moving to Mexico.
INGERSOLL - The GM Cami plant in Ingersoll has announced that they will be laying off 600 employees this summer.
GM made the announcement this morning. Employees were shocked after the plant hired roughly 600 new workers over the past 6 months. Plant Chair of Local 88 Mike Van Boekel tells Heart FM everyone was extremely disappointed with the news.
"Well just extremely disappointed and thanks to everybody out there that has ever bought our vehicles, nobody is better at playing games than GM. This is just an embarrassment for them."
Van Boekel says he can't believe they are moving production of the Terrain to Mexico and leaving the workers in Ingersoll out to dry.
"It's total crap, we have hired over 600 people over the last 12 months. 6 weeks ago GM announced that we are losing our Terrain, which we make close to 100,000 vehicles a year and 6 weeks ago they announce to us and the media that they are moving it to Mexico because we are over capacity, we can't keep up. We have been working 6 days a week, mandatory Saturdays every Saturday for the last 8 years, 6 weeks for over capacity and now they are telling us they are laying us off because they don't have enough to keep us busy. I mean maybe Trump doesn't have all bad ideas, this is totally ridiculous. GM announced 12 billion dollars in profits last year, they are on record as saying it is their most profitable year ever and they are taking jobs away from Canadians to move to Mexico who don't hardly buy a GM vehicle in the first place - Are you kidding me?"
Van Boekel says they are going to be meeting with the company every day to try to mitigate the damage. He says they will be demanding retirement incentives and buy out packages and he vows to knock it down a long way from what they think they are going to lay off.
He says this is going to have a major impact on the Town of Ingersoll if all of these layoffs go through.