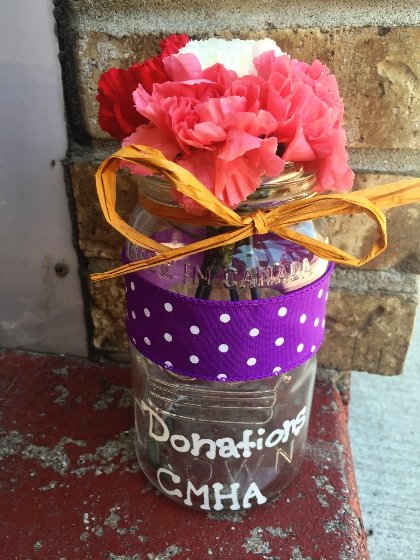 Floral Occasions in Ingersoll are trying to raise money for the Canadian Mental Health Association of Oxford County.
INGERSOLL - Buying a carnation in Ingersoll this week will help support the local Canadian Mental Health Association of Oxford County.
Floral Occasions Owners Seamus and Amanda Evely and their staff are donating 100 percent of the proceeds from their carnation sales to the CMHA this week. Seamus tells Heart FM why they chose the carnations.
"They are kind of nicknamed as the mother flower because they don't shed their pedals when they wilt, they actually stay completely intact and they are the only flowers that do that."
Evely says they wanted to do something to show their support for the community.
"There was recently a tragedy in our community and being that we have the flower shop in town, we noticed a lot of the community coming in wishing to purchase flowers for that and it's just a way for us to be able to give back."
The carnations are being sold at a number of locations in Ingersoll and only cost 1 dollar. You can purchase them at the following locations.
- Floral Occasions
- Olde Bakery
- Patina's
- Endless Boundaries
- Miss Ingersoll
- Koffee Korner
- Tony and Gus
- Roberts & Co.
- Dorothee's
- Youngs Pharmacy
- McKim's Home Hardware
- Maya
- Coffee Culture
- Kraft Korner
- Sushi 11
- Mango Salad