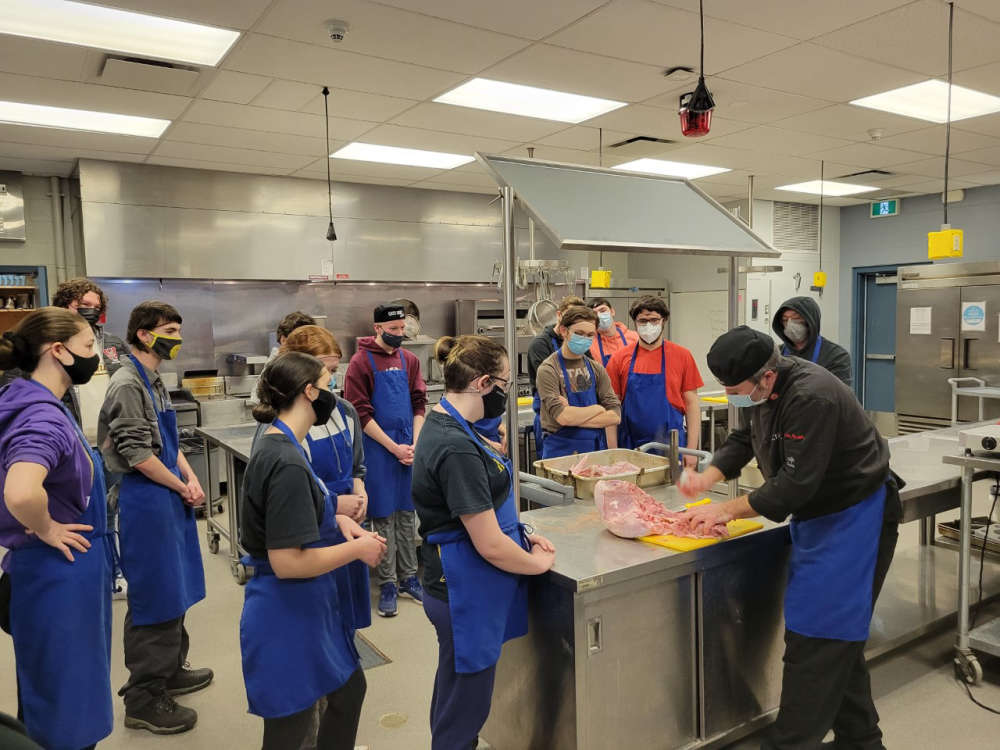 The CASS Chef Culinary Tourism and Hospitality program cooked several turkeys yesterday and they will be delivered to two churches in London next week.
WOODSTOCK - Wonderful things happen in Woodstock all the time!
The CASS Chef Culinary Tourism and Hospitality program volunteered to prepare and cook turkeys for the less fortunate. Yesterday, students in the Grade 11 class prepared wonderful holiday meals for St. John the Evangelist and St. Paul's Cathedral in London. Both churches feed over 200 people in the community every week.
CASS Culinary, Tourism and Hospitality teacher, Andrew Linton talks about what his class was doing Tuesday afternoon.
"These turkeys have been brought to us by St. Paul's Cathedral in London and we are preparing the Christmas dinner for people that need food. Anybody that's hungry, St. Paul's will be providing them food and they asked us if we could prepare the turkey and naturally were more than happy to do so."
Linton comments on how to properly cook a turkey and common misconceptions about cooking one.
"A lot of people cook a turkey whole but with different types of meat, white and dark meat, you have different levels of doneness when it's finished. We cut the whole turkey apart, we cook everything separately so it's perfectly cooked. We bone the thighs, we stuff them, we tie them like so and all the bones, all the carcass, the students learn to make stock with so we can make sauce for the turkey."
Finally, Linton addresses what they're doing with the turkeys after they've prepared them.
"We're going to roast them, slice them, package them in a vacuum sealed bag and freeze them and they'll be ready to go for when the event happens."
CASS Principal, Ian Charlton is a member of the outreach committee at St. John the Evangelical. Normally the churches have several businesses volunteer to cook the holiday meals. This year for a variety of reasons, businesses were hesitant to volunteer. Principal Charlton offered up the CASS Chef program and the students were able to come through in a big way. The meals will be frozen and delivered to the churches next week, just in time for a nice holiday meal before Christmas.
If you have any heartwarming stories like this don't be afraid to email the newsroom at news@1047.ca.