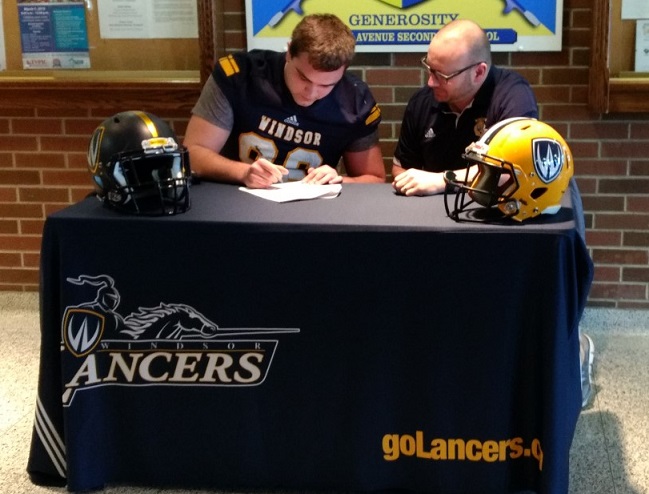 A football superstar from CASS has signed an official offer from the Windsor Lancers.
WOODSTOCK - The ink is still drying after a College Ave Secondary School athlete officially signed an offer from the University of Windsor.
Zach Taylor has earned a full athletic scholarship to the university where he'll be joining the Lancers Football team as a defensive tackle.
Taylor was overwhelmed as friends, family, and supporters filled the front foyer of CASS to cheer him on during the official signing ceremony.
"I didn't expect it. I only started playing football a couple years ago, so I didn't think much of - I just played because I liked the sport. I didn't think I'd get anything out of it. So when Coach Stafford actually hooked me up with Coach D'Amore who got me down for a visit and watched me play and he was obviously pretty confident in the kind of player I would be."
Taylor says it is those coaches from CASS who propelled him to be the player he is today.
"I just want to thank them for everything that they've done - they'll say I did it all myself, but I honestly couldn't have done it if I'd had a different coach."
Head Coach for CASS Football Colin Braney is amazed at the progress Taylor made considering he was a 'basketball guy' for most of his life.
"We tell the kids we'll show you the path but you have to walk it and he's the epitome of that. He's a guy that put in the extra work, put in the extra time. We always say give us smart kids, give us kids who want to work and he's the perfect example of that."
Head Coach for Windsor Joe D'Amore looks forward to seeing Taylor join the rotation.
"He's got great size which will allow him to compete right away and he shows a lot athleticism when we've seen him play and it's a position of need. We're looking for big guys, and he's one of those guys! Hopefully from day one he steps in and contributes on the D-Line."
Taylor will be studying criminology in the fall.