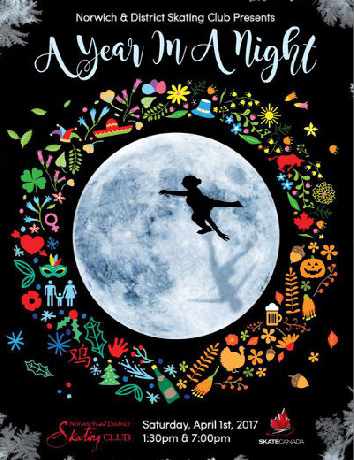 The Norwich and District Skating Clubs annual carnival will feature holiday themed performances this year.
NORWICH - The Norwich and District Skating Club is going to take you through A Year in a Night with their annual carnival.
They have two shows coming up on Saturday at the Norwich Community Centre with start times of 1:30pm and 7:00pm. Angela Simpson tells Heart FM the theme this year will see skaters perform numbers to represent the various holidays in a calendar year.
"We start out with a New Years number and we progress through different age levels, you will see your youngest skaters in the Easter number, some of the other younger skaters are in the Mardi Gras and Halloween numbers and then our older skaters are spaced out throughout the entire performance."
They also have two guest skaters this year in Rachel Lafleche from Tillsonburg and Woodstock's Grayson Lochead.
Both local skaters compete at the National level.
You can buy tickets beforehand at the Norwich Insurance Brokers or by calling Chris at 519-863-3892 or Angela at 519-788-3625. Tickets will also be available at the door. Adults are $10, kids ages 5 to 12 cost $5 and children under the age of 4 will get in for free.