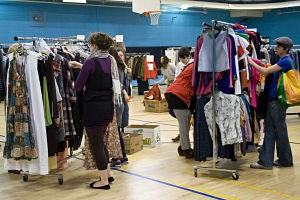 (wikipedia)
The Clean Out Your Closet event is looking for donations of gently used articles of clothing and household items.
WOODSTOCK - The Children's Aid Society is hosting the CMHA Oxford Clean Out Your Closet Event.
When people fall on hard times luxury items such as clothes and towels become wants and not necessities. Fortunately CMHA Oxford Community Support Worker Resa Heagle thought the Clean Out Your Closet event, "would be an opportunity where people could get rid of things in their closet that they have outgrown or they never liked the colour or they wanted it to go to a good cause it would serve a real need in the community and not a dime would be spent."
The Clean Out Your Closet event will take place on December 18th th from 9 a.m. to 3:30 p.m. and Friday December 19th from 9 a.m. to 3 p.m. The public are welcome to peruse the donations and take items that they want for free. The event will take place at the Children's Aid Society Oxford- 712 Peel Street, Woodstock in the multi-purpose room.
Those interested in donating to the event can drop off gently used men, women and children's clothing and practical household items to CMHA's Woodstock Office at 522 Peel Street between 10 a.m. and 4 p.m. until Wednesday December 17th.
Practical household items include: pots/pans, dishes, utensils, small appliances, towels and linens.