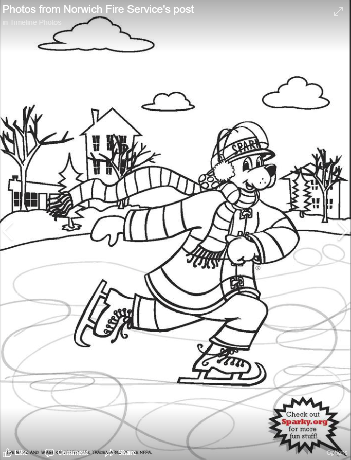 Participants will be colouring a photo of Sparky the Fire Dog ice skating.
Lots of kids in Norwich Township will be breaking our their crayons and markers this month.
NORWICH TOWNSHIP - The Norwich Township Fire Service is encouraging kids to spend some time indoors when the weather is this cold.
They are offering a colouring contest for local kids between the ages of 4-10. Each participant will have to colour a photo of Sparky the Fire Dog skating and hand it in before February 1st.
Lead Public Fire and Safety Educator Derek Van Pagee says the firefighters will select the winners.
"We'll lay them out and we'll pick the best ones and then we'll flip them over and contact the individuals. We have two categories; 6 and under and 7 to 10, obviously being Township of Norwich residents."
The colouring page is available on the Norwich Fire Service Facebook Page. Van Pagee says you can also find them at three locations throughout the township.
"They can stop by either Market by the Falls in Otterville, Foodland in Norwich or The Village Market in Burgessville where there's a pick up and drop off point."
Kids can also submit their masterpieces through the mail by sending it to the following address;
PO Box: 885
Norwich, Ontario
N0J1P0