It may be some time before the fields see some action, but Cowan Fields is officially open.
WOODSTOCK - It's been a long time coming, but Cowan Fields is officially open.
The city first purchased the land at 1459 Devonshire Ave about 10 years ago from Ken and Shirley Woodall. Since then the land classification had to be changed from Light Industry to Recreation. A survey was also sent out to the public asking residents what they thought the city needed. The survey results stated a need for more ball diamonds, playgrounds, and splash pads; all of which are now included in Cowan Fields.
In 2015 the project received capital approval with $3.6 million for phase one. Construction began shortly afterwards.
Although the outdoor recreation complex is open to the public, Director of Parks and Recreation Brian Connors says the playground and the slash pad aren't quite ready yet.
"We're still needing to have the accessible walkway to the playground - it's very muddy all around it. We want to make sure that's cleared and we want to make sure we clean out and make sure there isn't any construction waste the kids could get injured on."
The city will inform the public when the playground and splash pad are open. The ball diamond conditions are also not favourable at this time due to the rain. All of the ball leagues who have scheduled time will be contacted when the diamonds are in a more playable condition.
One of the three ball diamonds has also been dubbed the Hank Roy Diamond. Hank Roy was a former Vice President of Cowan Insurance, the company with the naming rights for Cowan Fields. Brian Roy, Hank's son, says his father was very passionate about baseball.
"He was at the first Blue Jays game in 1977 - he never missed a game whether be attending or on the radio. His whole life was around baseball as to when the Jays were starting on the radio or watching on TV; that was his clock was when the Jays were playing."
Brian's son Derek threw the ceremonial first pitch at yesterday's grand opening ceremony.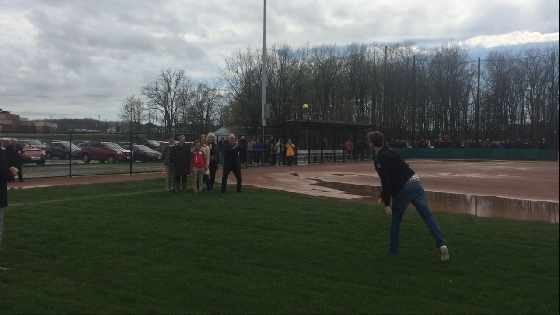 Derek Roy, the grandson of Hank Roy, throws the ceremonial first pitch to his father Brian Roy at the grand opening of Cowan Fields and the Hank Roy Diamond.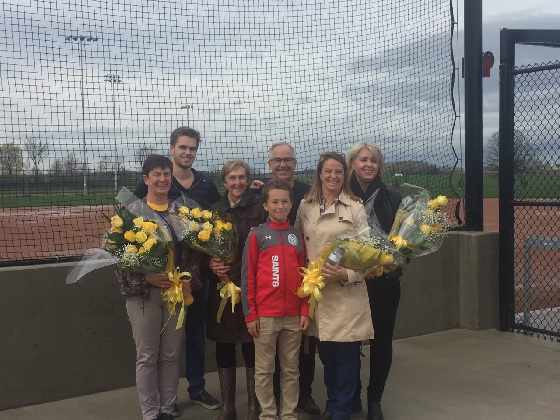 The Roy family at Hank Roy Diamond