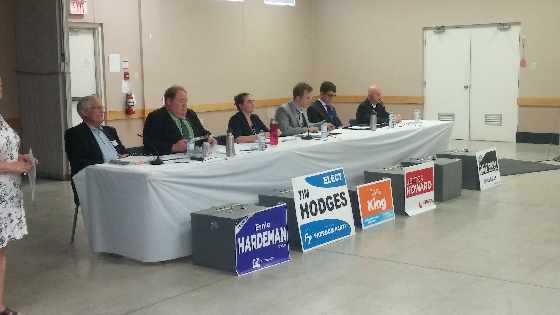 With the election fast approaching, MPP candidates met for one final debate.
INGERSOLL - Provincial candidates met for one final debate in Ingersoll. As expected, the landfill was a major topic.
James Howard, Candidate for the Liberal Party had some strong words about this topic in his closing statement.
"MPP David Ramsay committed to stopping the Adams Mine Dump, and should he fail in his efforts, he promised to resign. Ladies and gentlemen, that is my commitment today and my promise to you should I be elected as your MPP."
Howard noted that the MPP was successful in his efforts, and he plans to be the same.
The topic of health spending once again came up to the candidates at this debate.
Tim Hodges of the Freedom Party explained that government monopoly is the issue with our health care
"We don't support the government monopoly on health care. Monopolies are expensive, and they provide poor service and this is part of why we see large expense today when it comes to health care and the long wait times."
He stated that his party plans to privatize health care to help with the costs and wait times.
Another topic was EQAO testing, which NDP candidate Tara King stated she would get rid of.
"So EQAO testing doesn't work. Teachers are teaching to the test. We have $40,000 worth of student debt behind us as teachers, as educators to profess our professionalism and use our professional judgement in order to access our students in our classroom"
When the topic of addiction came up, current MPP, and PC candidate Ernie Hardeman, stated that they need to do more about the addiction problem.
"I think we haven't done enough, we're not doing enough now with the marijuana and we haven't done enough with gambling to put the protective programs in place to help people who do get addicted to it."
Candidates were asked during the debate which private member bill they would introduce.
Rob Van Ryswyck, of the Ontario Party brought up a local matter with his answer.
"I mean the answers aren't in the books so I guess we're going to have to speak from the heart on this one. If you ask me not to solve the dump, fine. I'll solve the high speed rail. That's affecting Oxford. People still need rights to their land. I will protect their rights."
Dave Sikal, Independent MPP candidate spoke about protecting small businesses during the debate.
"I personally think we need to enact what I call the Ontario entrepreneur's act. What that does, is it gives business owners a cut in their 3rd year of profitability to account for 52% of our economy today. We need to leg up.
Sekal also mentioned that there is too much legislation for businesses.
The provincial election is on June 7th.