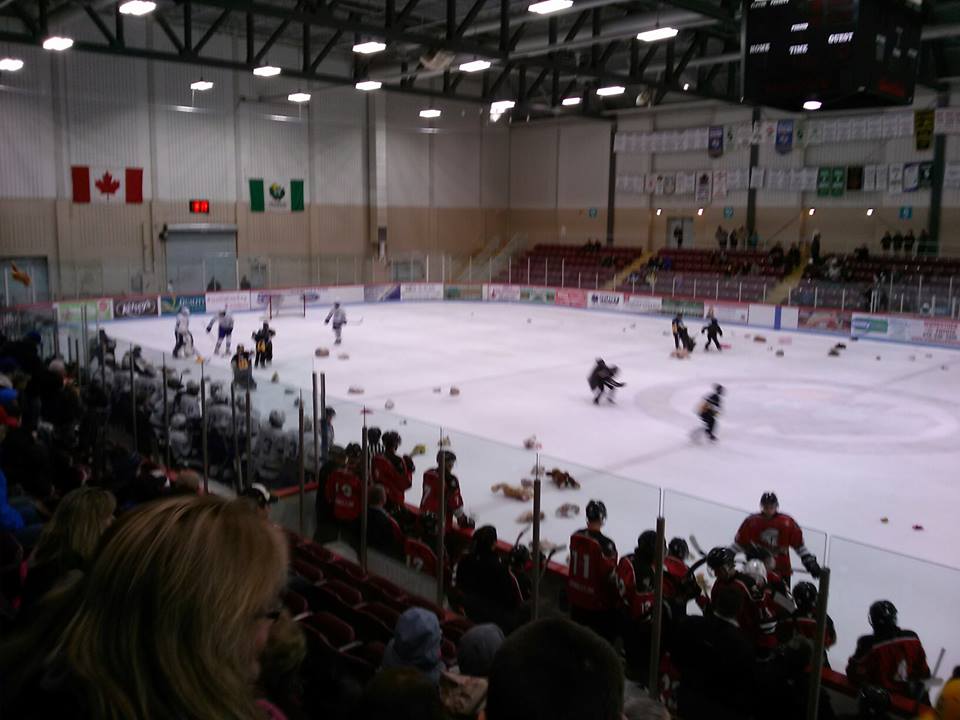 The Woodstock Navy Vets hosted their Teddy Bear Toss Night, collecting stuffed animals for children in need this Christmas.
WOODSTOCK - The Woodstock Navy Vets may have suffered a loss to the Ayr Centennials, but local children were the winners in last night's Teddy Bear Toss Night home game at Southwood Arena.
Teddies poured onto the ice after Justin Elms scored the Vet's first goal at 16 minutes into the first period. The Centennials responded with a goal a minute later and another in the last minute of the period, bringing the score to 2-1 by the first intermission.
Ayr opened the score in the second period with two goals in the first half, countered by Elms' second goal of the evening on the power play.
Two more goals from the Centennails rounded out the second period.
Jake Schenider, assisted by Elms, scored late in the third on the power play, but it wasn't enough as the game ended at 6-3.
Goalies Michael Roefs and Jackson Swindells faced 34 shots in the Vets net …
The Vets are on the road Saturday night in Wellesley and will close out their pre-holiday schedule on Tuesday night when they host second place New Hamburg at Southwood Arena at 7:45 PM.