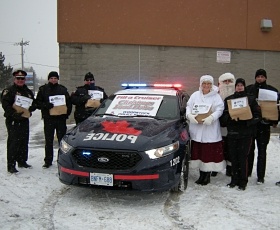 A photo from the 2013 campaign
Woodstock Auxiliary hosting their annual event Saturday
WOODSTOCK - The Woodstock Auxiliary Police will be out at Sobeys in Woodstock today for their annual Fill A Cruiser Campaign.
Community Service Officer Steve McEwen says they will be collecting food for the Salvation Army.
"My experience is that Sobeys has bags for people to purchase for -- I think it was $5 and $10 -- and they could donate them to go into the cruisers so we are hoping many people come out and support us and fill as many cruisers as we can."
This is the sixth year for the campaign with the goal to collect as much food as possible.
Officers will be collecting food from 9-1pm today at the Sobeys in Woodstock.