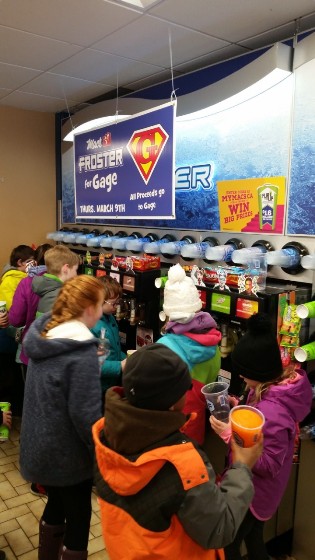 Frosters for Gage fundraised over $7,000 for the family of Gage Foster, a local boy with brain cancer.
WOODSTOCK - The Macs Convenience store on Devonshire is celebrating a very successful Frosters for Gage fundraiser.
The shop sold $5,016 worth of Frosters and collected $2,500 in cash donations on March 9th.
Owner Paul Smith tells Heart FM all of the funds will help the family of Gage Foster, a student from St Michael's Catholic School with brain cancer.
"From what I understand is he is being transferred from the London Sick Kids down to Toronto Sick Kids, so it is going to cover the cost of their travels, their stays down there and from what I understand is some of his medication isn't covered so I'm thinking it's going to towards covering a lot of that as well."
Smith's son also attends St Michael's Catholic and is in Gage's class. Over 400 students from the school stopped by the store to support the cause.