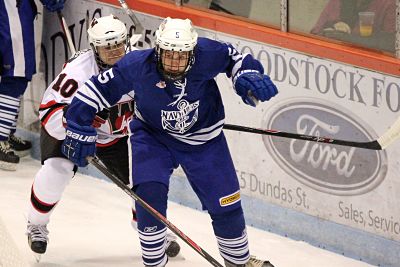 Just a minute into overtime, Mike Gillespie scores the game winner for the Woodstock Navy Vets, placing the team in third place.
WELLESLEY - The Woodstock Navy Vets squeezed out a 2-1 win in overtime against the Applejacks in Wellesley Saturday night.
The game was scoreless heading into the third period, when Wellesley opened the scoring after less than a minute. The Vets responded with just over 3 minutes left, with Dan Haig tying the game assisted by Mike Gillespie and Austin Richardson.
With just over a minute on the clock in overtime, Gillespie sent the puck into the net for the win, assisted by Jeremy Racicot.
Jackson Swindells defended the Vets' goal, facing 34 shots.
Currently Woodstock is in third place after 30 games, sitting 8 points behind second place New Hamburg and four points ahead of fourth place Burford.
The Navy Vets holiday schedule wraps up on Tuesday when they host New Hamburg at Southwood Arena at 7:45 PM.