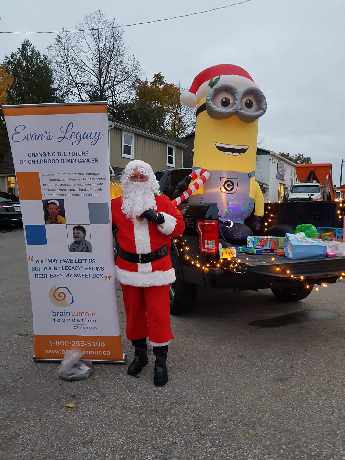 Evan's Christmas Toy Drive will be accepting unwrapped toys and monetary donations as well, which can be dropped off on the corner of Main Street and Beverley Street in St.George this evening.
ST. GEORGE - A Christmas Toy Drive is taking place in St. George to help families in need this holiday season.
The annual event is in honour of the late Evan Leversage Wellwood, who passed away in 2015 after battling cancer.
His mother Nicole Wellwood says they have launched the toy drive for the last few years.
"We're going to have the Rose Princess and Wonderland Girl on hand at 6:00 pm. Santa and Mrs. Claus that where on site at the parade in 2015 are going to be there at 6:30 pm, with the iconic sleigh that Evan rode atop of."
She adds there will also be music, hot drinks and West Brant OPP will also be participating.
Wellwood is among the people involved in the event and she says they're looking for unwrapped toys and monetary donations too.
Proceeds will go towards the Paris Christmas Hamper Program. The program provides a food basket and gifts with each delivery. Wellwood says they opted to focus on toys for children who are Evan's age.
"As a town we continue to want to give back and as a family this was our way of paying it forward and launching this memory of Evan because Evan would always want any child to have an amazing Christmas and we would never want any family to struggle."
Tonight's event will be located on the corner of Main Street and Beverley Street inside the parking lot of Truck Tech Performance. There are additional drop-off locations at Dragonfly Landscape, St. George Family Eye Care and the St. George Family Wellness Center.
It runs from 4:00 pm to 8:00 pm.
#brantopp will be out Thursday Oct 24 from 4pm ro 8pm in St George on the corner of Beverly Street and Main Street collecting new unwrapped toys for #evanslegacy come out and visit with Santa and Disney princesses ^kj pic.twitter.com/6nUbpVnKBi

— OPP West (@OPP_WR) October 22, 2019