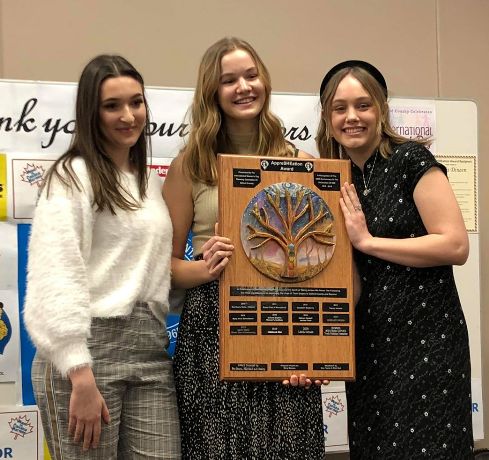 (Left to right) 2019 AppreSHEation Award recipient, Makenna Hall with the 2020 recipients, Hailey Cocker and Emma Jull
The AppreSHEation Award winner in the youth category went to the organizers of this years Grow Girls Event. Grade 12 CASS Students Emma Jull and Hailey Cocker accepted the award on Sunday in Ingersoll.
INGERSOLL - The AppreSHEation Awards were handed out on Sunday in Ingersoll.
Grade 12 students from CASS Emma Jull and Hailey Cocker won the youth award after organizing the Grow Girls event this year. They took over for McKenna Hall who won the AppreSHEation award last year. Hailey says it was quite the honour to hear their name announced on Sunday.
"The feeling is hard to describe, because I know that McKenna worked really hard to pull this event off last year and now the award for youth appreciation is being passed on and hopefully will be passed on again. It's just a really admirable thing for Oxford County to do for us."
Emma adds it was such an honour to win the award in front of so many amazing ladies in Oxford County.
"It was such a beautiful event and I really loved seeing the community come together, I talked to a lot of people and listened to their stories and I got to see a lot of really strong women that I know from the community. To have everyone there in one place, celebrating what it means to be empowered was really beautiful."
Hailey says it was such a great experience organizing Grow Girls this year.
"We helped out at the event last year in a leadership role and McKenna asked us to do it this year and thankfully together we have been able to work together for a few years now on student council and that helped bring it all together. We were able to grow the event, which is super amazing, we got Tessa Virtue to come, which is really cool for Oxford County."
Emma also served as the host for the event, she says Grow Girls really means a lot to her personally.
"When I was in the room, I just felt this overwhelming power that every single individual had and the positively that everyone was projecting on to each other and onto themselves. This event just proves that there is a strong community of girls that want to build each other up and want to learn how to be the best selves that they can be."
The awards were presented at the Oxford County event celebrating International Women's Day at the Unifor Local 88 Hall. Those in attendance got to enjoy a fabulous pancake brunch, network, visit interactive booths and of course the main event was the AppreSHEation Awards.
Linda Dineen was selected for the 18+ award for her volunteer work in the community.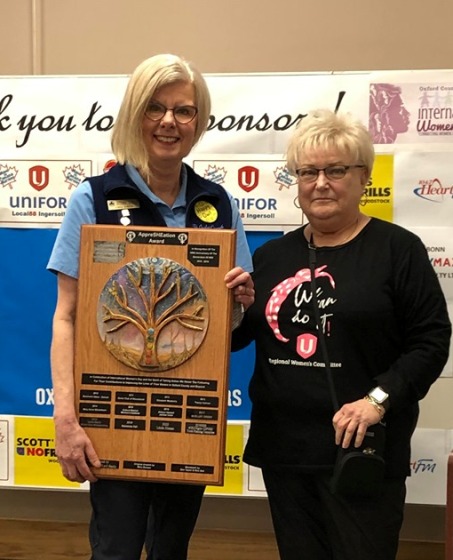 Linda Dineen receiving the 18+ AppreSHEation Award from committee member Pat Bonn