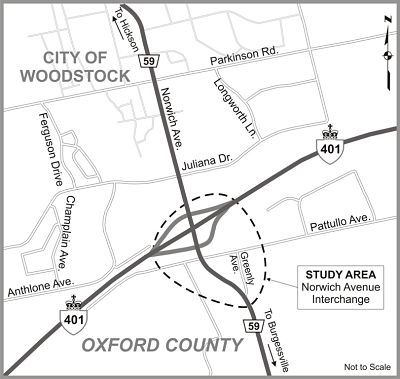 The MTO has begun a Detailed Design and Class Environmental Assessment Study
LONDON - The Ministry of Transportation has begun the Detailed Design and Class Environmental Assessment Study to replace the Highway 401 underpass structure at Norwich Avenue and associated interchange improvements.
Ministry of Transportation West Region Communications Coordinator Leanne Fisher says a preliminary design of the interchange was recently completed.
"That plan includes a new bridge which will be constructed on a new alignment just to the west of the existing bridge and that's to minimize disruption to traffic on Norwich Avenue. Traffic will be taking the new bridge before the old bridge is demolished and Norwich Avenue will be realigned to tie into the new bridge." Fisher says "The interchange's overall diamond configuration with signalize ramp terminal intersections will remain the same so generally it will look sort of the same as it does -- that intersection."
As far as right now, Fisher says there is a lot of data that still needs to be collected. "Preliminary designs have already been identified and now the Ministry needs to sort of continue with filling in the detailed portions of that, considering the Environmental Impact. That includes consulting with the public to a certain extent. Sort of finishing the design and the Environmental Assessment work."
Construction is expected to begin in 2016 and wrap up in 2017.
Fisher says an estimated costs for the project is not available at this time.
More information can be found here.