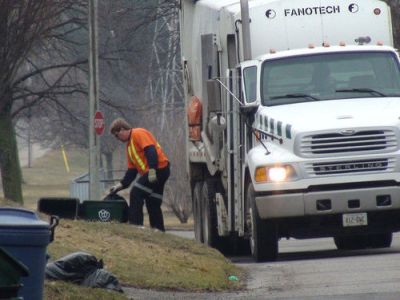 The Holiday Season means a change in some garbage and recyling pickup dates.
OXFORD COUNTY - With Christmas falling mid-week, County residents can expect changes to their garbage and recycling schedule.
"For the municipalities who receive curbside collection by the County contractor, they will find that collection for December 25 will move to December 27, which is a Saturday," said Waste Management Coordinator Pam Antonio. "The County is collecting on Boxing Day so anyone who is scheduled to have a Friday collection will receive that on Boxing Day."
Antonio says residents in Woodstock and South West Oxford will have a different schedule. The same will apply for New Year's Day the following week.
Antonio says if your waste hasn't been collected at the normal time, don't panic. "It's going to be the first two weeks of January that you are going to find, collections are going to be delayed. There's going to be large volumes of material at the curbs and the gentlemen who are out performing collection are going to be spending long days out on the road and midway through their collection day they are going to have to empty their truck and then get back out."
Antonio says following Christmas, real trees can be brought to any of the ten leaf and yard waste depots located throughout the County. Some municipalities will be offering curbside collection though (refer to your collection guide).
Antonio says there are a few things you can do to help ensure your waste gets picked up. "There's going to obviously be a lot of cardboard and box board from toy boxes and things like that from Christmas so we would ask residents to please break their cardboard down, tie them into bundles into 30 inches, by 30 inches by 8 inches and by doing that it will ensure we don't have any problem with the cardboard getting into the trucks."
Details and collection schedules have been posted to the County's website.