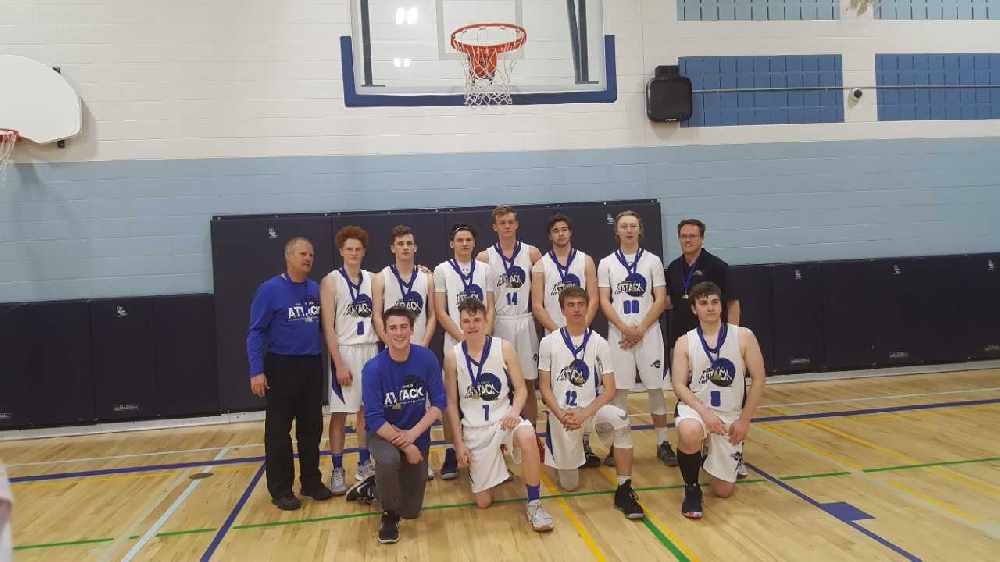 Front Row L-R: Adam Bullen, Liam Dempsey, Shayne Bartman, Callaghan Bullen Back Row L-R: Coach Paul Cowan, Ben Jentz, Brandon Cowan, Lucas Gagnon, Lincoln Poole, Cubby Dempster, Thomas Morgan, Coach Chris Dempster Absent
The Oxford Attack U19 Junior Men's Basketball Team won gold this weekend.
WOODSTOCK - Success has found The Oxford Attack U19 Junior Men's Basketball Team.
The team won their home Ontario Basketball Association sanctioned AA tournament over the weekend in Woodstock. The tournament brought in teams from all across Ontario to compete in their 4-game tournament. The Oxford Attack Basketball Club welcomed seven different U19 Junior Men's teams to the friendly city.
The Guelph Gryphons are typically strong, but The Attack defeated them in the gold medal final by a narrow 63-61 margin after trailing for most of the game.
The local St. Mary's Catholic High School gymnasium was an electric atmosphere filled with eager fans in the stands.
Highlights of the game include Thomas Morgan and Lincoln Poole managed the Gryphon's 6'7'' post player and were effective at limiting his inside scoring. Callaghan Bullen led the Attack in scoring with 22 points and scored 9 consecutive points to finish the game and seal the win for the Attack. Brandon Cowan and Ben Jentz also contributed 12 and 11 points, respectively. Liam Dempsey, Cubby Dempster, Lucas Gagnon and Shayne Bartman were excellent on defense for the Attack in the final as the Attack allowed the least amount of points by their opponents in the entire tournament.
For many members of the team, they began their careers playing with the Oxford Attack in grde 4 or grade 5. The roots run deep and so does the camaraderie. Many players have experienced success in club and school teams because of their experience playing together for so long.
Many of the Oxford Attack U19 team will finish their club basketball careers at the OBA provincial championships in Kingston in late May. The Attack U19's are expected to be in one of the top divisions in the province.