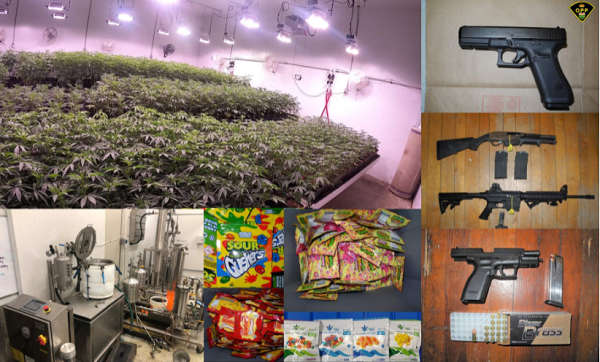 The illegal weed store was delivering pot and gummies in London, Kitchener, Hamilton and Toronto. 21 people were arrested in the bust, including 3 from Tillsonburg.
A massive illegal cannabis operation has been busted.
A total of 21 people have been arrested after 16 month investigation from the OPP Organized Crime Enforcement Bureau and the London Police Service. The illegal weed shop provided delivery services in London, Kitchener, Hamilton and Toronto.
Earlier this month police executed 15 search warrants in London, Hamilton, Toronto, Middlesex County and Norfolk County. Officer Striker of the Woodstock Police Service Canine Unit assisted in at least one of these warrants.
Police say they seized the following in the search warrants:
- 495 kilograms of illegal cannabis resin/oil;
- 7,166 kilograms of illegal cannabis bud;
- Approximately 10,000 packages of illegal cannabis edibles;
- 2,773 kilograms of illegal cannabis shake;
- 185 kilograms of illegal cannabis shatter;
- 15,343 illegal cannabis plants;
- 65 kilograms of psilocybin;
- 124 grams of cocaine;
- 28 oxycodone pills;
- 50 hydromorphone pills;
- Grow equipment valued at more than $653,000;
- Six firearms and ammunition, including four handguns, a .22 cal rifle and a 12 gauge sawed off shotgun;
- More than $53,000 CAD currency; and
- Six vehicles as offence-related property, with a combined value of approximately $163,000.
The drugs seized in this investigation have an estimated street-value of more than $32 million. Most of the people charged were from London and St. Thomas. Three people arrested are from Tillsonburg. They include a 71 year old woman, a 68 year old man and a 36 year old man, who were all charged with Cultivate, propagate or harvest any cannabis plant at a place that is not their dwelling-house (or offer to do so) contrary to section 12 (6)(a) Cannabis Act.