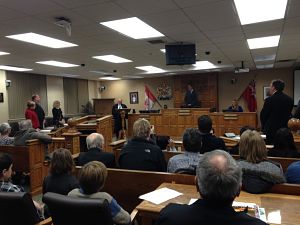 The public, friends and family turned out for the Woodstock City Council inauguration at City hall.
WOODSTOCK - It's official new and returning Woodstock City council members said 'I do' at the inauguration ceremony at Woodstock City Hall.
Of the 7 council members five are new faces including Mayor Trevor Birtch.
Returning to council are city/county councillors Deb Tait and Sandra Talbot who will be providing the veteran experience to the new council.
For the past month or so members have been undergoing orientation seminars in preparation for taking over the duties of the previous council. Justice F. Michael McMahon presided over the inauguration placing the Chain of Office around new Mayor Trevor Birtch's shoulders. Birtch said, "It's great, with these chains now around my neck I'm starting to feel the weight of the responsibility that the citizens of Woodstock have placed in me."
New councillors had this to say following the ceremony:
Jerry Acchione - "Amazing, wow, I am just in awe, so excited right now and for this opportunity...thank you to the citizens of Woodstock."
Connie Lauder - "I really will enjoy this I think it's great that I am back and that I got in with the majority of the votes for the city only, I am really thankful to all the citizens of Woodstock..."
Todd Poetter - "It feels wonderful, I can't wait to get to work...and work with the new councillors."
Shawn Shapton - "It feels amazing, this is something that I have wanted for so long but of course I had to wait for the right time in my life."
Returning veteran city/county councillors Deb Tait and Sandra Talbot were the only returning members of the previous council. Tait said, "It's exciting to be back, I think it's going to be good with the new guys they're very eager, very willing to learn so I'm looking forward to it." Councillor Talbot said she appreciates the support from the community, "It's a privilege to come back again year after year to serve the community."