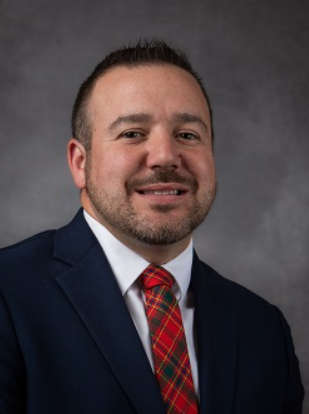 Ingersoll Mayor Brian Petrie has released a statement in response to the protests that took place outside recent Drag Storytime events in Ingersoll and Tillsonburg.
INGERSOLL - It was the most eye-opening, charged, happy, sad, hateful, and prideful day of Brian Petrie's political career.
The Ingersoll Mayor has released a statement, after attending the two drag storytime events at the Oxford County Library branches in Ingersoll and Tillsonburg on Saturday.
He says he was disappointed to see the protesters yelling at those who attended.
"I saw things that I hoped I would never see. I saw adults yell at children and their families as they entered the event. I saw a group flash white power symbols as they got out of their vehicles. I heard those same individuals say the vilest things they could think about to random strangers. I saw grown men try to stop the event by taking over the children's area and argue with police while holding bibles. I saw more grown adults surround the area of children, trying to watch the show, holding cards with their opinions on them. I saw a person who wants to represent Oxford with this
group. In short, I saw a group of people demonstrate that they only care about their beliefs and not the right of others to have their own. A group that was only there to show ignorance and hate towards something they couldn't understand."
Petrie says both of the events were to move forward despite the protests.
"I saw two brave, powerful performers flawlessly complete their shows, to the cheers of the kids, under less than ideal circumstances. I saw them hold their ground while insults and stares were hurled at them, all for dressing differently. I saw our library staff act highly professional throughout these events, never wavering under an incredibly stressful time. I saw the OPP in attendance, de-escalating the situation multiple times and ensure the safety of all that attended, and I thank them for their professionalism."
Petrie believes both events were successful in the end with most of the families and children attending enjoying themselves. He adds the Oxford County Library upheld its mandate as a place of knowledge and he is proud to be an OCL Board member.
According to a post on the Oxford County Library Facebook page, four stories were read during each storytime. The Kindness Book by Todd Parr, Big Wig by Jonathan Hillman, and I'm a Unicorn by Helen Yoon were read at both events. Those attending the Ingersoll storytime also got to hear My Shadow is Purple by Scott Stuart, while the fourth book in Tillsonburg was Love the World by Todd Parr.
The next Drag Storytime event is scheduled for this Saturday, during the Oxford County Pride Family Day in Museum Square.