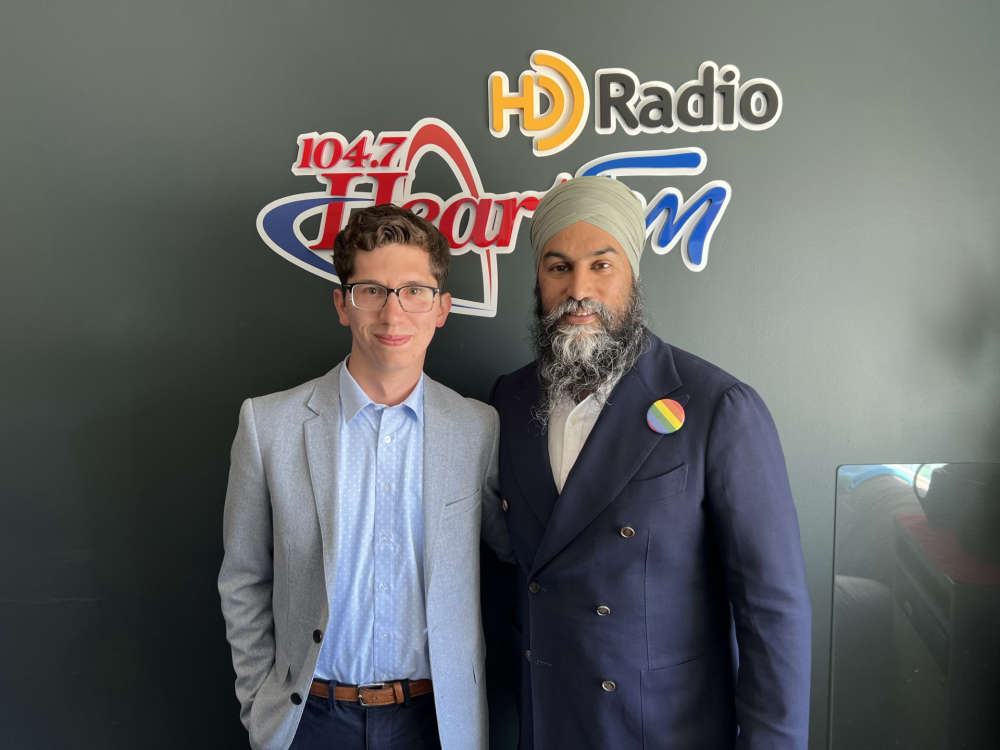 Federal NDP Leader Jagmeet Singh stopped by the Heart FM studio this afternoon for an exclusive interview with Dan Henry, Marcie Culbert, and Keasha Maile.
OXFORD COUNTY - Federal NDP Leader Jagmeet Singh spent the day in Oxford County and he stopped by the Heart FM studio for an exclusive interview this afternoon.
We asked him about the NDP's stance regarding diversity and inclusion in response to Norwich Township's decision to pass a flag policy bylaw that only allows for government flags on Township property.
"We really want to take care of each other. I think that means standing up for people, that means making sure people feel welcome and making sure people feel like they belong for who they are. I think that's an important thing and it's important for us to realize that so many of us share far more in common. We're all struggling with the cost of living going up and that's where we need to put our attention. How do we fight back to make sure life if more affordable and lift people up along the way."
While addressing the topic of homelessness and the cost of affordable housing, told us about his experience and how the matter hits close to home for him.
"I remember when I was a kid my family was going through tough times, my parents had to declare bankruptcy and we lost our home for a bit. I remember what that's like, I remember the fear and I remember the creditors calling the home and saying if your parents don't pay we're going to claim your house."
Singh is in town supporting Cody Groat, the NDP candidate for the upcoming byelection in Oxford. We know of five other candidates running against him at this time; David Hilderley for the Liberals, Arpan Khanna for the Conservatives, Wendy Martin for the PPC, Cheryle Baker for the Green Party, and John Markus for the Christian Heritage Party.
During his interview this afternoon, Singh also discussed the following matters.
- What it would mean for the federal NDP and the people of Oxford if Cody Groat was elected as our next Member of Parliament.
- The role the federal government plays in terms of crime and what policies could be implemented to prevent it from happening.
- His thoughts on the agriculture industry and how we need to support farmers in Oxford County and beyond.
- What his passions are outside of politics.
- His thoughts on Dan and Marcie's Daily Debate. How strict is he with the best before dates on food items?
You can listen to the full interview below: