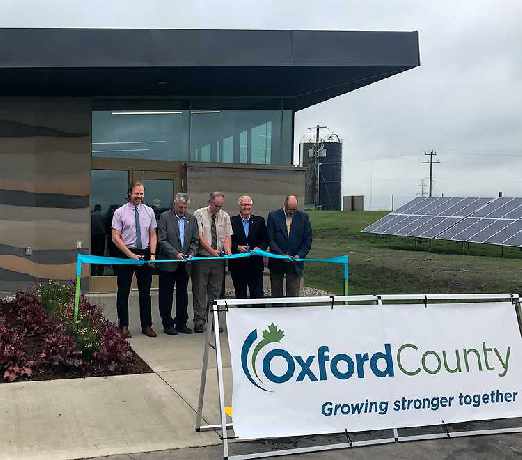 Many dignitaries were on hand today for the official opening of the Oxford County Waste Management & Education Centre.
OXFORD COUNTY - Three years ago County Council adopted a sustainability plan and a motion to commit to 100 percent renewable energy and zero waste.
Today, the Oxford County Waste Management & Education Centre officially opened its doors that address all of those commitments.
Oxford County CAO Peter Crockett says it is an incredible facility that will serve the community well for years to come.
"It is a highly energy efficient building; it's going to be all about zero waste. It is a major step moving forward for us as an organization and as a community as we continue on the road to sustainability and 100% renewable and zero waste."

The ribbon cutting of the 1.8 million dollar facility replaces a former farmhouse office, and with it comes some state of the art features. The walls of the facility were constructed to 22 inches thick and contain about 8 inches of insulation in both the walls and the flooring, minimizing the amount of electricity required to heat and cool the building. The windows are triple-pane allowing for plenty of natural light while reducing the heat loss in the winter and heat gain in the summer.
Crockett says the entire photovoltaic system is one of the most impressive components of the building that began construction about 10 months ago.

"We have got solar energy outside the building; there is enough solar power to offset the electrical use on the building and the landfill site as a whole. It is a demonstration of what net-zero could be like."
The education component of the building is one of the most important pieces for achieving the zero waste goals for the future. School boards across the county are encouraged to frequent the facility to learn how they can help in the zero waste initiative.
There were many dignitaries on hand for the grand opening, including Oxford MP Dave MacKenzie, Director of Public Works for Oxford County David Simpson, Oxford MPP Ernie Hardeman and Warden David Mayberry; each one stressing the importance of educating the youth in the community about waste management.
Warden David Mayberry says that County council has been clear with their vision moving into the future.
"They know that the community is ready for this and in fact are expecting this and the role of council is to lead and top get us as far ahead as they can."
Mayberry adds that regrettably most of the community may not be aware of the building.
"For a lot of us, our involvement with waste and recycling starts and ends at the end of the curb, but that is part of the task moving forward, to encourage people in the community to do better and especially to teach the young people to better their future."