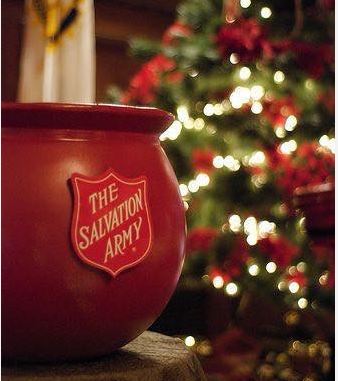 stock photo
Kettle volunteers are still around Woodstock collecting money for The Salvation Army, however there are fewer this year helping with the program. This year's campaign has seen many generous donors, but is still short of hitting target.
WOODSTOCK - The Salvation Army Kettle program is still out for the Holidays.
Salvation Army Kettle workers are stationed at several locations through Woodstock collecting money for the Salvation Army.
Community Ministry Coordinator Noel Stern says the campaign has not had many volunteers.
"Our Kettle campaign has been a little slow, and it is not from the donors, they have all been very generous. The reason our Kettles have been slower is that we have not had the volunteers to have out at any location as long as we'd like to, my numbers are only from December the seventh we are still calculating the past week but as of the seventh we've raised $36,000, our goal is $100,000. Based on that number we've been averaging about $2,100 a day, we need to average around $3,200 a day, so we need to pick up and as much as we are certainly asking for people to continue giving we are asking people not to just give up their money, but their time as well, so if there is anyone out there who as an individual or as a community group please take a day and adopt a Kettle."
Funds raised through the kettle donations help provide food, clothing and shelter to people who need it, especially in the Winter season. Stern notes, the reason the donations are down this year is because they don't have enough volunteers to man the kettles.
This year the campaign has one Debit machine which is shared between Zehrs, the LCBO, and Wal-Mart.
Anyone who would like to volunteer can call the Salvation Army at 519-539-6166.