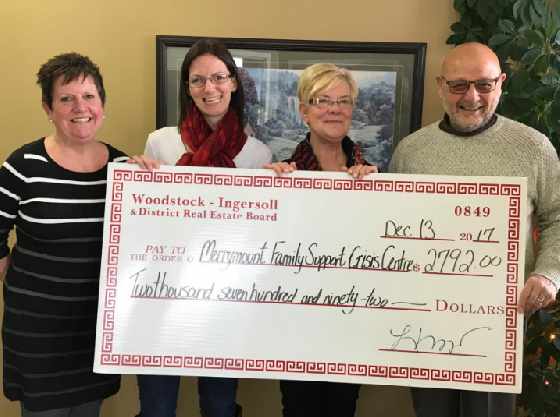 The Merrymount Family Support Crisis Centre is the latest recipient of the Realtors Care Grant, thanks to the Woodstock Ingersoll and District Real Estate Board.
The Merrymount Family Support Crisis Centre of Oxford has received a cheque for $2,792 from the Realtors Care Foundation.
In a press release, President William Cattle of the Woodstock-Ingersoll & District Real Estate Board says they sponsored Merrymount for the Realtors Care Grant.
"Merrymount offers a valuable service to our community in the protection of our most valuable asset, our children. We are proud as an association to be able to give back to our communities as our members not only work here, but they are your neighbours, friends, community activists and much more."
The funds were raised through the Ontario Realtor Care Foundation's one member campaign, where each member donated $1 a month in order to benefit a shelter based organization of their choice. The foundation has helped over 250 shelters over the past 40 years.