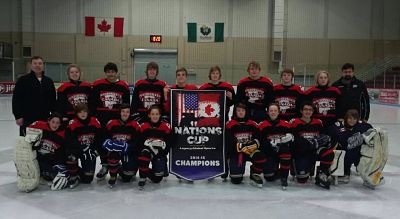 Woodstock Jr Navy Vets AA Minor Bantam boys win at Nations Cup Tourney in Michigan.
WOODSTOCK -- The AA Minor Bantam Woodstock Jr Navy Vets came back champions from the 2014-2015 Nations Cup tournament over the weekend.
The tourney, which was held in Roseville Michigan, hosts teams from around Canada and the United States playing in a Ryder Cup style total points format. Each team plays for points toward their respective country's total score.
The Jr Vets battled through some major injuries and a flu bug that was claiming players to eventual beat the Chicago Bulldogs 5-0 in their final game and secured enough points for Canada to win the Tier 2 North American Championship for the AA Minor Bantam Division.
Throughout the tournament, the boys played against teams from Canton Ohio, Chicago Illinois, Brighton Michigan and Toledo Ohio.
It's the second major tournament victory in the 2014-15 season for the AA Minor Bantam Woodstock Jr. Navy Vets as they won their 3rd consecutive International Silver Stick Qualifier in early November.
The team will next travel to Newmarket from January 15-18, 2015 to represent Woodstock and defend its 2014 International Silver Stick title.