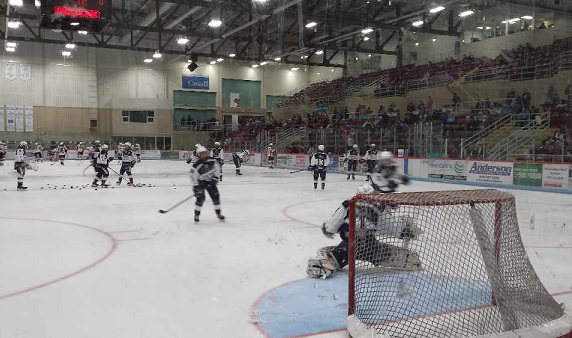 All three goals from the Navy Vets last night were scored by players, playing in their last game. Woodstock lost 4-3 in the final seconds.
WOODSTOCK - The Woodstock Navy Vets season came to a dramatic end last night, losing 4-3 on home ice against Tavistock.
Woodstock did not go down without one heck of a fight. Navy Vets Captain Kyle Walker scored with just under a minute left in the game and the goalie on the bench with an extra attacked to tie things up at 3-3. It would turn out to be Walker's last goal with the team as he will be too old to play next year. Tavistock Defenceman Thomas Haffner scored with 16 seconds left in the game to give Tavistock the victory.
The overage players really shined for the Navy Vets last night in their last game with the team, Noah Burns opened up the scoring for Woodstock early in the game. Kyle Walker scored the next two and Chris Thompson got a big assist.
The Braves now advance to their 3rd straight Division Championship Series against the winner of the other SF series between Wellesley and Ayr that the Applejacks currently lead 3-2.
Keaghan Brett made 28 saves in the Vets net last night in front of an estimated 435 fans in attendance. Woodstock had over 14,000 fans show up this year for the 2nd time in 3 seasons.
Tavistock is now the only team left in the playoffs from Oxford County in the PJHL Doherty Division. The other Oxford County team still alive is the Thamesford Trojans who play in the West Yeck Division. They play tonight in Dorchester for game 2 of their semi final series.

With files from Jim Taylor