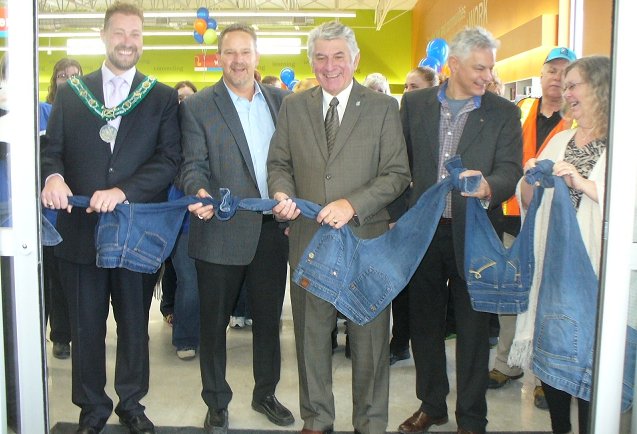 The Woodstock Goodwill Community Store and Donation Centre opens with a traditional 'blue jean ribbon cutting'
The new Goodwill expansion in Woodstock has created 20 new jobs and welcomes all shoppers to take a peek at the new location.
WOODSTOCK - The doors are open and the registers are ringing at the new Goodwill location in Woodstock.
Following a traditional 'blue jean ribbon cutting' with local dignitaries, shoppers flooded the newly constructed Woodstock Goodwill Community Store and Donation Centre.
President and CEO of Goodwill Industries Ontario Great Lakes Michelle Quintyn says this expansion is only possible because of the giving nature of this community.
"It's the first time I think in history in our Goodwill that we've had to expand three times in a community. And we will be expanding in and around this area as well to create more donation flow because this is a big store. But yes, the generosity of this community has made this event happen today."
MP for Oxford Dave MacKenzie was there for the grand opening and said it's great to see new opportunities come to our area.
"When you look at it and they've got over 30 employees - they've more than doubled the number of people they had in this store compared to the last store and many of these people would find it difficult to find regular employment but it's offered to them here and an opportunity to grow."
This expansion has created 20 new jobs and will host transitional employment and placement opportunities for those seeking to enter the workforce.
John Gilvesy from the Goodwill Industries Board of Directors Ontario Great Lakes says they think this location really encapsulates everything they stand for.
"You wonder if this is the right use after it's been a church but Goodwill does a lot of good things and I think that's the intent of the mission of the church and Goodwill is following through with that mission and providing opportunities for people who are challenged."
The new location is located at 902 Dundas Street in Woodstock.