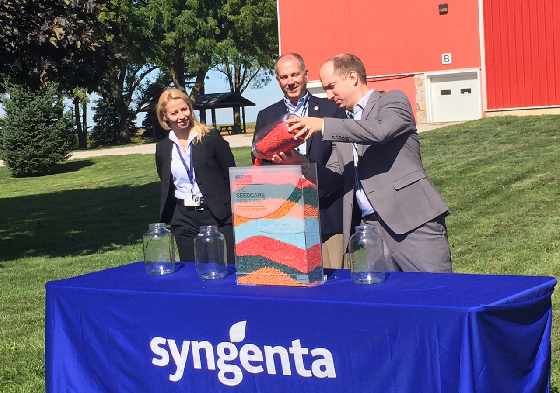 Doug Baumann participated in a special seed pouring ceremony during grand opening festivities.
A new seedcare institute located at the Honeywood Research Facility in Plattsville is one of twelve in the world.
PLATTSVILLE - Syngenta has opened up a special seedcare institute at the Honeywood Research Facility in Plattsville. A special seed pouring ceremony marked the grand opening of the institute Friday morning.
Different seed prototypes will be analyzed at the institute before they are used by farmers. Manager Doug Baumann says the seeds at the Honeywood Facility are approved for Canadian climate.
"We are ensuring that our Canadian customers get a different product from anywhere else in the world and that it is going to meet their needs. Minus 40 degrees, plus 40 degrees, wherever you are in Canada we are thinking of you and you only."
Staff will be looking at six different areas of research and support for their customers:
1) Recipe Development
2) Application, Quality Assessment and Engineering
3) Stewardship
4) Training
5) Seed Safety and Biology
6) Product Marketing Support
The Plattsville based seedcare institute is one of twelve of its kind in the world.
Syngenta, a Guelph based agriculture research company has over 40 years of history at the Honeywood Research Facility with 20 of those years looking at seedcare.