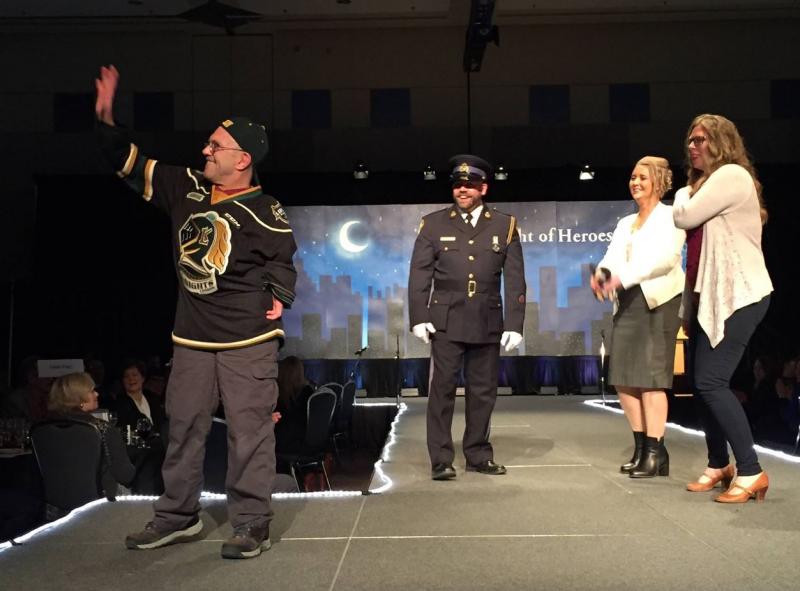 Constable Honoured for helping to make Christmas come early for a child in St. George
ST. GEORGE - It has been six months since a 7 year old boy captured the hearts of a community and really the Province as the town of St. George celebrated Christmas in October.
They did it for Evan Leversage who was terminally ill and was told by doctors he wouldn't make it to Christmas; Evan passed away in early December. One of the people who was there from the beginning was Constable Ken Johnston who was honoured at the Community Living London's Night of Heroes for his role in making sure Evan had a special last Christmas.
Johnston tells Heart FM it was a pretty special day.
"The whole community came together, the day of the event people were coming up and asking what they could do and how they could help, no one was upset that the road was closed and no one was upset that people hustling around and doing things, everybody came together and I have never seen such a positive energy in a community before."
Johnston says the initial plan was to just drive Evan around in a cruiser to see the Christmas lights and do a short emergency services parade and it grew to the point where they had over 240 requests to put floats into the parade. Brant OPP Detachment Commander Peter Liptrot had this to say about Constable Johnstons and the detachments work with Evan.
"We don't like to be referred to as "Heroes", but I suspect that's exactly what PC Ken Johnston was in Even's eyes. Ken's efforts more broadly reflect the volunteer hour's members of the Brant County OPP dedicated in support of Evan's wish."