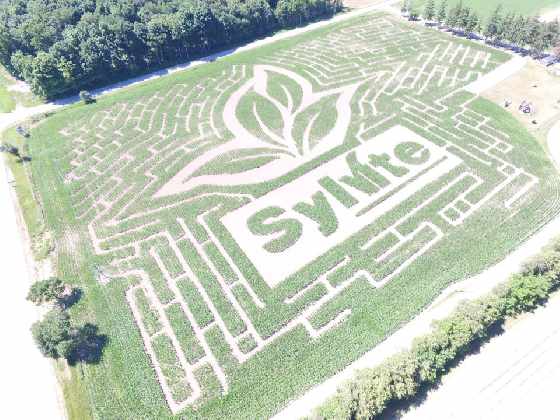 The Norwich Optimist Corn maze is officially open for the 2016 season!
NORWICH - Lots of people will be lost and laughing at the Norwich Optimist Corn Maze this year.
There's two mazes cut into the field and they are both incorporated into the design, which is the logo for Sylvite Agri-Services in Norwich.
Optimist Club Member Alison Vankerrebroeck says there's lots of other family friendly activities offered on the corn maze grounds as well.
"We also have many games for kids including pumpkin bowling, mini putt, duck races and of course the play structure and pirate ship. There's a farm animal centre where students can look and see local farm animals and read interesting facts about them."
Vankerrebroeck adds the maze will host school trips during the week.
"Students will learn about grain, crops including by-products of corn and soybeans. We have learning centres where students can guess the seeds, farm machinery, tools and we want them to know that if they ate today thank a farmer."
There's also special events planned at the corn maze:
Saturday September 17th - Families are welcome to dress up as their favourite princess or pirate and participate in lots of activities.
Saturday October 8th - Kids and adults can dress up as their favourite superhero and meet the Woodstock Spiderman and Wolverine.
Saturday October 29th - Children can dress up in their Halloween costumes and collect lots of candy while trick or treating in the maze.
Those who love a good scare can also check out the Haunted Maze nights on October 21st, 22nd, 28th and 29th.
The corn maze will run on Saturdays and Sundays from 11am to 6pm until their last day on October 29th. Admission into the maze is $7 for a child and $10 for an adult. You can also arrange to celebrate a birthday party there as well.
The Norwich Optimist Corn Maze is located on the Rettie Farm at the corner of Highway 59 and Evergreen Street north of Norwich.