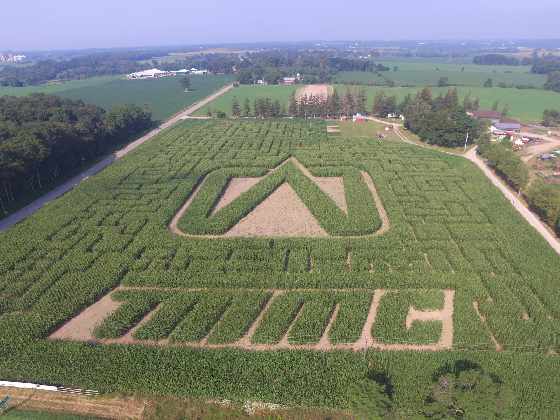 Courtesy: Norwich Optimist Corn Maze
The Norwich Optimist Corn Maze is ready to host more couples, families and school trips this year.
NORWICH - The Norwich Optimist Corn Maze is getting ready for their 11th season at the Rettie Farm.http://norwichcornmaze.com/
This years maze design is dedicated to their Corporate Maze Sponsor; Toyota Motor Manufacturing Canada. Farmer John Rettie explains why he chooses to incorporate not one but two mazes in the 10 acre field each year.
"Neither maze is particularly easier nor harder than the other, its just that it offers a break in the middle for anyone who wants or needs it. It is totally possible to get lost and wander aimlessly for a period of time".
The maze will open up to the public on Saturday September 23rd with their popular Pirates and Princess Day. Families are invited to come dressed in costume adding an element of adventure to their day. A Princess and Pirate will be on hand for photo opportunities for the family.
Other events this year include Superhero Day on September 30th with special appearances from Woodstock Spiderman and Batman. Dressing up in costume is encouraged for Trick or Treat Day on October 28th. Maze goers can trick or treat as well as enter in the costume contest, which includes a prize for all winners. Lastly, a highlight of the season is the Haunted Corn Maze Nights on October 20th and 27th.
Optimist Volunteer Alison Vankerrebroeck adds the maze is also a popular destination for school field trips during the week with a lot of activities for all ages.
"Get lost in the maze, have fun, while your looking around answering questions to do with agriculture, you can learn about some crops that are grown in Southwestern Ontario, there's a fun craft, there's seed guessing games and there's lots of fun outdoor activities to do."
The maze will be open to the public on Saturdays and Sundays from 11am to 6pm until October 28th. The maze will also open up on the Thanksgiving Monday from 11am to 6pm.
General admission for the maze: Ages 2 and under are free, ages 3-12 are $7 each (must be accompanied by an adult) and ages 13 and over are $10 each.
All proceeds from the Corn Maze support the Norwich Optimist Club and are invested back into the community to support kid's activities and programs!
More information about the maze and other services offered on the farm can be found on their website.