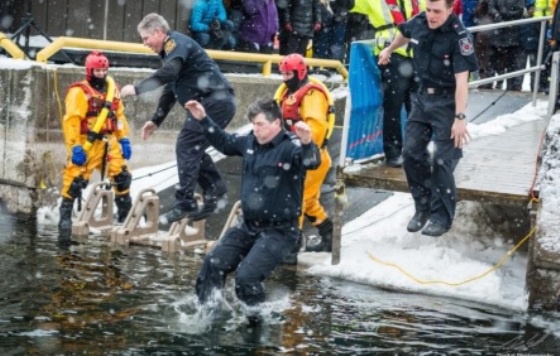 Courtesy: Special Olympics Ontario
The Ontario Law Enforcement Torch Run's Polar Bear Plunge will be at the Fanshawe campus in Woodstock tomorrow from 3:00 to 5:00 pm.
WOODSTOCK - The Polar Bear Plunge, presented by the Ontario Law Enforcement Torch Run is coming to Woodstock.
Several brave souls will jump into a frigid pool at the local Fanshawe Campus tomorrow.
Oxford OPP Constable Patti Cote says they are looking for more people to join them.
"You can pay to jump or you can raise money to jump, we have sponsor forms online and it is easy to donate online with just a few clicks of the button."
Cote says both Oxford OPP Detachment Commander Tony Hymers and Woodstock Police Chief Daryl Longworth will be taking the plunge.
"Insepector Tony Hymers is committed, myself and few other constables are going to take the plunge and we are still trying to rally a few more and I understand we will have a few members of the Woodstock Police Force joining us as well."
Cote admits she's a little nervous.
"I have had a lot of people ask me if I'm crazy for doing this, I wouldn't say I'm crazy but I am committed to the cause and it is going to be a fun day."
Everyone is invited to watch the polar plunge from 3:00-5:00 pm. All the proceeds will go towards the Ontario Law Enforcement Torch Run supporting special Olmpyics and local athletes.
You can find more information on how to sign up online here.