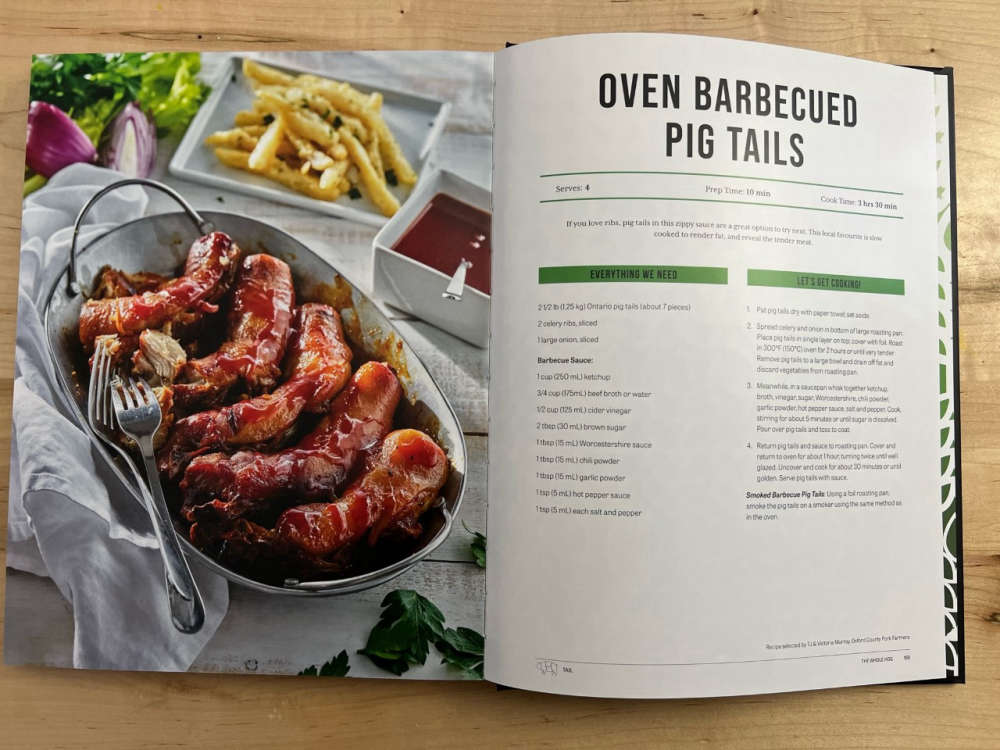 Submitted photo
TJ and Victoria Murray from Hickson submitted their recipe for Oven Barbequed Pig Tails for The Whole Hog cookbook. All of the proceeds will be going to Feed Ontario.
OXFORD COUNTY - Ontario Pork is proud to celebrate its new Ontario inspired cookbook The Whole Hog.
The 200-page book tells a unique story of local individuals from across the food supply chain who are bringing high quality pork to the people of Ontario.
Recipes were collected from farmers, top-flight chefs, truckers, veterinarians, nutritionists, processors, retailers, and backyard grillers. Their stories provide insight into the care given to animals and the sustainable practices being used in Ontario.
Hickson-based pork producer and contributor to the book TJ Murray had the opportunity to work with a local chef to help create his wife and his Oven Barbequed Pig Tails masterpiece.
"Chef Eva was out at our place, and we had a lot of good talks on the farm-to-table aspect of things. How animals are raised, how she cooks in her restaurant with no waste, using the whole animal. It was good to connect with the consumer and have everyone on the same page."
The Whole Hog is available to buy online, or from select Ontario Pork retail locations. Proceeds from the book will support Feed Ontario. 2023 marks the 10-year anniversary of the Ontario Pork Friends of the Food Bank partnership with Feed Ontario.
Feed Ontario's Executive Director Carolyn Stewart was excited to be in partnership once again with Ontario Pork.
"This is another example of the tremendous relationship that we have with Ontario Pork. We are grateful to be the recipient of the funds raised from the sale of The Whole Hog book. These funds will help local and community food banks to support people facing hunger."
Since 2013, over 299,267 pounds of pork have been donated and distributed through the Ontario network of food banks.