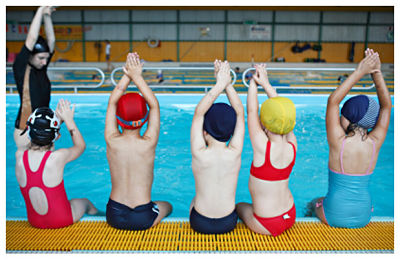 Kids under the age of 10 must undergo a swim test before swimming in the Otterville Pool this summer.
OTTERVILLE - A new admission standard has been introduced for young swimmers at the Otterville Pool. Kids under the age of 10 must sport a coloured wristband, which will shine a light on their swimming ability.
Upon arriving at the outdoor pool swimmers will be given a yellow wristband, which means they need to undergo a swim test.
Director of Community Development Services Patrick Hovorka tells Heart FM about the testing process.
"Basically all you have to do is swim two widths of the pool with some comfort and confidence, front crawl is preferred. If they can do that then they're given a green wristband."
A green wristband means the child passed the swim test and they can continue to enjoy the pool. If they fail the test they will be given a red wristband which means they must be supervised by a parent or guardian.
Hovorka says this will make parents and guardians think twice before sending their kids to the pool alone.
"Too often sometimes parents will drop children off at the pool that are not able to swim and that poses a big risk for them and for others around them as well. That's what we are trying to curb as those situations that may detract our lifeguards from doing a thorough job."
The Otterville Pool adopted this wristband admission standard after witnessing a similar system being done at the Tillsonburg Pool.