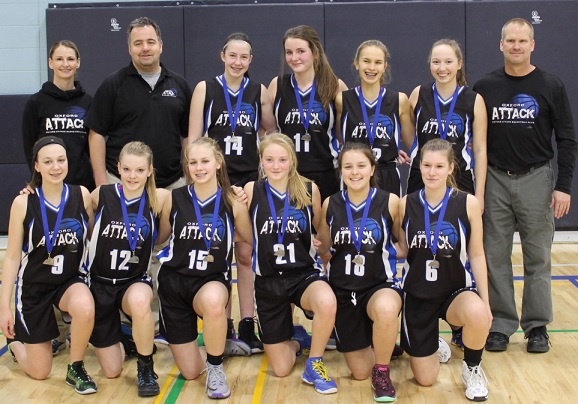 Oxford Attack U-15 Midget Girls Silver Medal Winning Photo from the Oxford Attack Home Tournament:
The Oxford Attack Under 15 Midget girls defended their home territory by taking silver in an OBA tournament
WOODSTOCK: The Oxford Attack Under-15 Midget Girls won silver in their home O.B.A. sanctioned basketball tournament on the weekend.
The Oxford Attack Basketball Club hosted 8 A+/AA/AAA caliber Under 15 Midget Girls basketball teams from all across Ontario on March 3rd to 5th in Woodstock
The Attack lost the championship game in a nail-biter 46-43 to the St. Catherine's CYO Rebels. The Attack girls defeated the Rebels in their own home tournament back in December so the Rebels were hungry for revenge on the Attack home court at St. Mary's H.S. The Rebels hit an astonishing 8 3-point shots (including a couple of banked 3's) in the gold medal game that the Attack could not overcome. The Attack girls battled extremely hard and actually had a 3-point lead with under a minute left until the Rebels hit another desperation 3-point shot to tie and eventually win the electrifying game on foul shots.
The St. Catherine's CYO Rebels are listed as a Division 1, top 8 team in the province at the mid-season OBA rankings; so the U-15 Attack girls are improving and competing at a very high level of OBA basketball this season.

The Attack girls opened their home tournament with a 58 – 44 victory over the Wallaceburg Airhawks. The Attack next played the Guelph CYO Knights and raced out to an 18 – 0 lead and never looked back with a 50 – 23 win. They next faced an injury depleted Sudbury Jam squad and won convincingly 56 – 22 to send Attack girls into the gold medal game.
Next up for the U-15 Attack girls is the Blessed Sacrament sanctioned tournament in Hamilton in late March.
Front Row (L to R): Amanda Witmer, Jaime Magoffin, Brianne Kunderman, Beth Ewing, Jaycee Gilbert, Camryn Hatfield
Back Row (L to R): Coach Christina Coombs, Coach Mike Ewing Coach, Alexis Birch, Hannah Cowan, Emma Hagen-Johnson, Gillian Worrall, Coach Paul Cowan
Article submitted by coach Paul Cowan