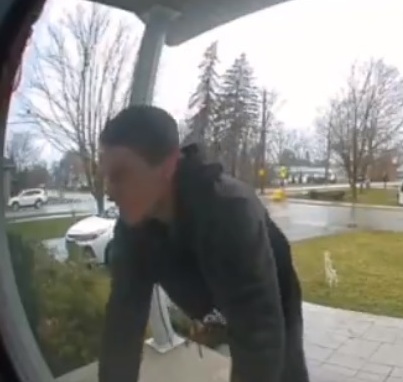 Oxford OPP have released surveillance video of a man who stole a package from a front porch on Cross Street in the Town of Ingersoll.
INGERSOLL - Porch Pirates strike again, this time in Ingersoll.
Police say a package was stolen from a home on Cross Street on Monday. A suspect was captured on surveillance and was seen leaving the area in a small white vehicle. Police are looking for a man in his 20's with dark hair, about 6'0 tall, slim build, clean shaven, wearing a black and grey Reebok hoodie. He was driving a white Chevrolet Cruze.
Anyone with information on this suspect is asked to contact Oxford OPP 1-888-310-1122. Should you wish to remain anonymous, you may call Crime Stoppers at 1-800-222-TIPS (8477), or submit an online tip at www.oxfordcrimestoppers.com where you may be eligible for a cash reward of up to $2000.
With online ordering becoming more popular, especially at this time of the year, the OPP want to encourage citizens to protect your provisions from the 'Porch Pirate'.
If you're expecting to receive deliveries, make arrangements so that you don't find yourself a victim.
Here are some useful tips that may help:
- Track deliveries online and try to be home at the time a package is delivered
- If possible, request deliveries services to get a signature from a recipient
- When scheduling a delivery, leave instructions on where the package can be delivered or ask for a phone call when it is delivered. Even leaving a package out of sight may make all the difference
- Ask a trusted friend or neighbour to receive your package at the time of delivery
- If allowed by an employer, have the packages delivered to your work
- Have the package delivered to a delivery depot where it can be held for pickup
- Consider installing a motion-detection home security system that records video and sends immediate notice of activity to your cell phone. Many new smart doorbell systems allow live updates
- Some stores provide a pickup-in-store service that allow you to pick up items from a nearer location
- Look carefully when ordering as retailers may have a way of customizing delivery instructions
#OPP Oxford County is seeking assistance in identifying this #PorchPirate who stole a package from a front porch in Ingersoll on December 9th. If you have information, contact the OPP at 1-888-310-1122 or Crime Stoppers at
1-800-222-8477(TIPS) or https://t.co/2dPTP8mhp0 ^pc pic.twitter.com/iw4heLE88O

— OPP West (@OPP_WR) December 10, 2019