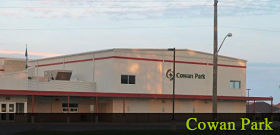 The Woodstock Soccer Club is asking for some financial help when it comes to running Cowan Park.
WOODSTOCK - There's a possibility the city could be taking the reins at Cowan Park in the future.
The facility on Ridgewood Drive is currently operated by the Woodstock Soccer Club. But Colin McIlveen, the club's Director of Finance says they have been experiencing some financial troubles as of late.
"We have declining registration and declining revenues and increased operating expenses for the Woodstock Soccer Club."
Director of Parks and Rec Brian Connors will be putting together a report to bring back to city council detailing the pros and cons of the city taking over. He says it will also look at how it would impact the city's wallet.
"Looking at both the revenue side and the expenditure side as well as looking at capital and the amortization of those capital costs."
Connors adds the report could take him months to put together, depending how long it takes him to gather the necessary information.