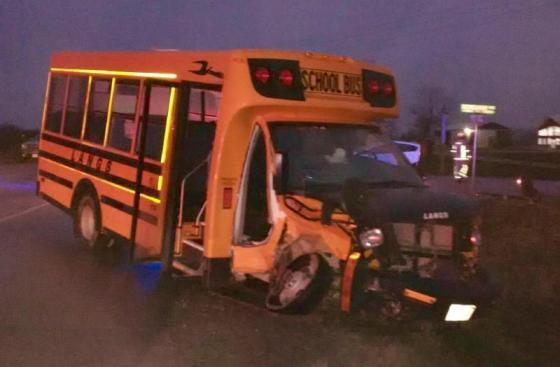 A school bus carrying an 8 year old and SUV with a toddler inside collided in South West Oxford Township.
Nobody was seriously injured after a school bus collided with a SUV on Mount Elgin Road in South West Oxford Township.
The bus did have an 8 year old passenger on board at the time of the collision and the SUV was carrying a 1 year old passenger. Neither child were hurt. Police say the crash happened around 4:30 pm yesterday. The small yellow bus was going through the intersection when it collided with the SUV. Both the driver of the bus and the SUV were taken to the hospital with minor injuries.
Constable Stacy Culbert tells Heart FM they did want to thank a couple of good samaritans who helped out at the scene.
"There was some people in the area who had stopped, and anyone who has ever been in a collision themselves, just having that comfort there, somebody to stay with them until help arrives is always appreciated, so we did have a couple of nice Samaritans that stopped at the scene and we just wanted to pass along our thanks and probably thanks on behalf of the families as well."
Culbert says the collision could have been a lot worse.
"Both of the vehicles involved had to be towed away from the scene, so it was a pretty serious collision that could have had dire results with the injuries. The one year old passenger in that SUV was belted in properly with their car seat and it looks like that saved that child from having any serious injuries."
The collision remains under investigation and charges are pending.