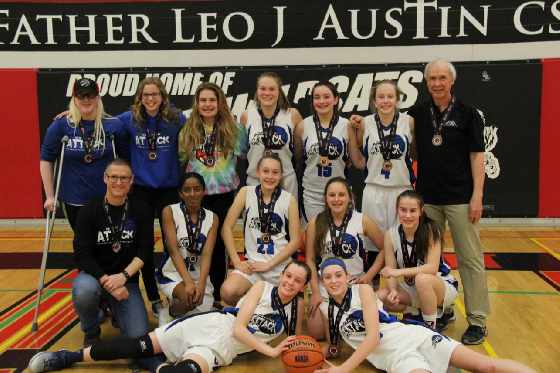 Photo credit: Oxford Attack
The Girls U15 Oxford Attack finish off a season to remember with even more success.
OXFORD COUNTY - The Oxford Attack U15 Girls Basketball team ended their season off on the right note.
They brought home a silver medal in the Ontario Provincial Cup Championships last month.
Head Coach Jon Empringham says this was a great year for the girls.
"'The first highlight was starting the season on our 16-0 winning streak; that was pretty unexpected and impressive. We were undefeated in our OBL (Ontario Basketball League) play, we won the Guelph tournament at the end of February and then we were silver at the Brantford tournament at the end of March."
Empringham says their hard work paid off.
"I was just so incredibly proud of them! I haven't worked with a group of girls who were so competitive and so determined; they gave 110 percent all of the time."
Empringham hopes most of the girls will return for tryouts in late September.