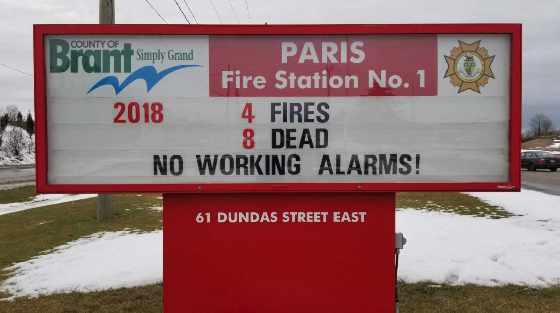 Members of the Brant County Fire Department are stressing the importance of working smoke detectors, now that house fires are on the rise in Ontario.
A working fire alarm could be the difference between life and death.
Upon noticing an increase in fatal house fires in the province; the Brant County Fire Department is encouraging everyone to test their alarms monthly, change the batteries annually and replace them if they are over 10 years old. The same applies to carbon monoxide detectors, but they only have a five to seven year life span.
Brant County Fire Chief Michael Seth says this simple task can save lives.
"Fire moves so fast that you may have less than 60 seconds to safely escape a fire. Can you imagine learning that your family has died because the smoke alarms were not working? Take a moment to imagine that."
The law requires there to be smoke alarms on every floor of a home and outside of all sleeping areas. If not obliged you could be fined anywhere between $360 and $50,000. Corporations could be fined up to $100,000.