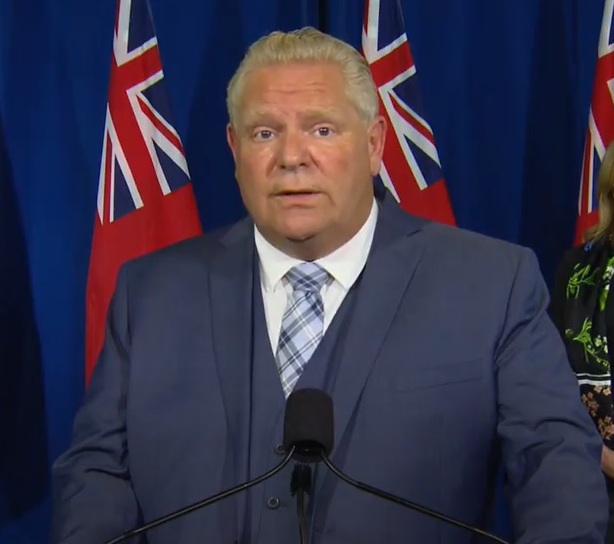 Premier Doug Ford announced over half a billion dollars today to fortify long term care homes in the Province for the second wave and announced that visitor restrictions will be coming back starting on Monday in the hardest hit regions.
ONTARIO - Starting on Monday, visitors will not be allowed at Long Term Care Homes in some of the hardest hit regions in Ontario.
The only visitors who will be allowed into the LTC homes are staff, essential visitors and essential care givers only. The Government has made it possible for family members or friends to be a care giver and you can still sign up to do so if you have a loved one in a Long Term Care home. Premier Doug Ford says they will announce which regions will have these restrictions in the coming days.
"We are looking at the highest risk regions, the areas with high community spread, we are working with the Chief Medical Officer to identify those areas based on the data. My friends, this is something we don't take lightly, I know first hand how difficult it can be."
Ford encourages family members to sign up to be a care giver.
"We have made it possible for family members or friends to sign up to be care givers. This kind of support is critical and I encourage family members to please sign up to be a care giver. It helps our loved ones and it can help other residents as well. It means more eyes and ears looking out for our residents. It is easy to register, so I highly encourage folks to take advantage of this."
Ford says they are sparing no expense for our seniors.
"We are putting up another half a billion dollars to fortify our long term care homes against this virus. For the sake of our long term residents, for the sake of their families, we will be there for them, we will protect them."
Ford announced $405 million dollars to help homes with containment measures, staffing supports and purchasing additional supplies of PPE. They will allocate $61.4 million dollars for renovations in the homes, including ventilation and isolation capacity. $30 million dollars for additional infection control staffing and training for current staff and we will ensure every home has a two month supply of PPE.
You can listen to Fords comments below: