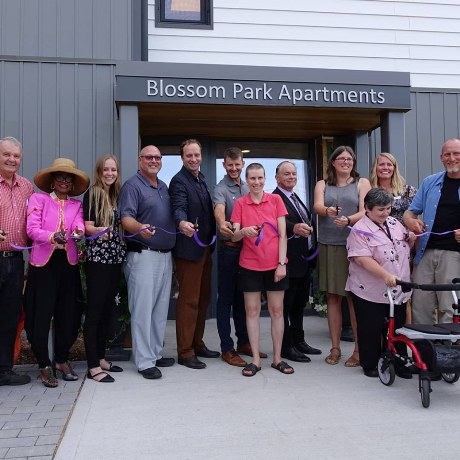 photo courtesy Indwell FB page
An official ceremony happened on Tuesday and 30 residents are already enjoying the affordable housing units at Blossom Park in Woodstock.
WOODSTOCK - The ribbon has been cut on the new Blossom Park Apartments from Indwell.
An official ceremony happened on Tuesday and 30 residents are already enjoying the affordable housing units. Director of Projects and Development Graham Cubitt says this is the first multi residential building in Oxford that was built to passive house standards.
"So it is a very high efficiency, low energy building and we are very excited, not only about the energy efficiency but the tenants who have moved in are just loving the place. It is kind of unique program in Oxford County because Indwell does provide affordable housing with support and this program at Blossom Park, does provide tenants who need a little bit higher level of support with more of a focus on medical assistance or dealing with medications or the complexities of health issues."
Cubitt says they will have nurses on staff and people who can help deal with addiction issues and other programs.
"It is a great opportunity for tenants to maximize their independence, live in their own apartments, live in a safe and supportive building and the new building has already become a catalyst for community building. Folks are getting together for dinners or potlucks, they have music clubs, knitting clubs, all kinds of things internally have already started at Blossom Park and it is really great to see the building come to life."
The building has 34 affordable housing units, 30 tenants have already moved in and the rest of the tenants will move in by the end of the week. Cubitt explains who qualified for the affordable housing.
"It is affordable housing, what we mean by that in this case, is it is affordable for people with a very low income, typically tenants might have ODSP as their primary income, but we charged $500 a month roughly, most utilities are included and tenants can sustain that on ODSP, because that is what the housing allowance is. For the long term we know that if tenants can afford their rent out of their predictable stable income, that really creates a high degree of housing stability. Housing stability, along with the supports that we offer can really lead to long term success for tenants. We know that in Oxford County, rents have sky rocketed, if you go online to find an apartment, it is really hard to find anything of decent quality for under a $1,000."
Several local dignitaries were on hand for the ribbon cutting ceremony along with members of Indwell on Tuesday afternoon.