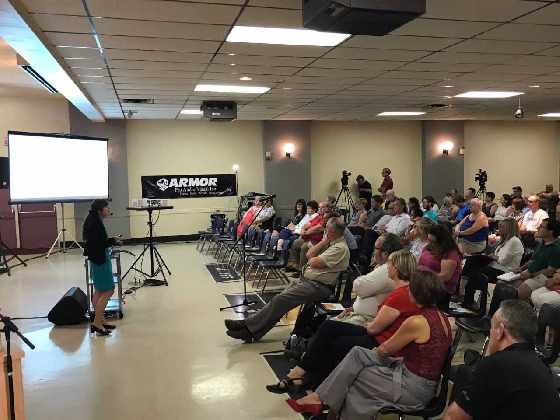 Credit: Marcie Culbert, Heart FM News
Operation Sharing's Oxford County Poverty Town Hall meeting brings impressive turnout from the public.
WOODSTOCK - Unifor Hall was packed with members of the community during Operation Sharing's Oxford County Poverty Town Hall meeting.
The night featured a presentation about food insecurity from keynote speaker Dr. Lynn McIntyre from the University of Calgary.
A panel of experts also answered numerous questions and discussed hot topics surrounding poverty; including jobs, housing, transportation and the introduction of basic income. A big focal point of the night was the need to speak with your local dignitaries about your concerns so they can put your thoughts into action.
Warden David Mayberry agrees with this statement.
"I believe that its job of the people you elect to lead the community, but it's the job of the citizens to make sure that you're holding the elected people to account. That's why I'm more than happy to talk to anybody at anytime and hear different positions and different perspectives."
McIntyre also believes that change is in the power of the municipality.
"It was actually remarkable how many ideas came that were within the purview of the municipality. From housing, to planning, to stimulation of revenues, to dealing with vacant buildings, to dealing with businesses. I found that was actually a very positive way of starting. That's the way that Oxford County actually leverages itself up, by already showing that it's coming to do this job."
Vanessa Giuliano represented Operation Sharing on the panel last night. She says the panelists will be meeting again today in order to create an official delcaration.
"We intend to put a collective letter on intent forward to out municipality saying this is what we think needs to happen, here's the statistics, here's all the proof, there's other places that have done it, this is what's happened, we your people need this done."
The declaration will outline how we can reduce poverty in Oxford County.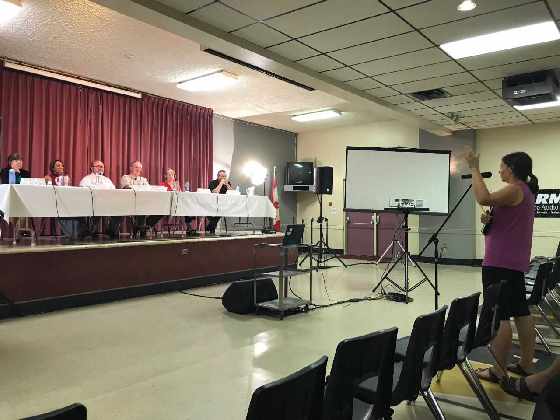 (Marcie Culbert, Heart FM News), Town Hall Panel Question