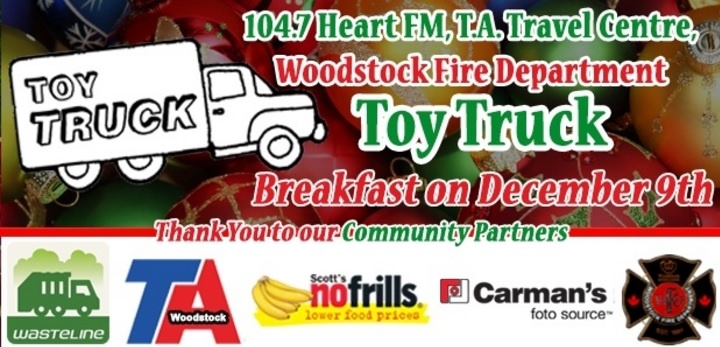 Toy Truck Breakfast returns with a delicious breakfast, a visit from the big man in red, and a chance to help the community.
WOODSTOCK - Heart FM and several community partners have teamed up for this year's Toy Truck Breakfast.
This annual fundraiser collects toys to donate to the local charities helping our less fortunate.
The breakfast will be held at the TA Travel Centre on Friday, December 9th starting at 5:30 a.m. The price of breakfast is an unwrapped toy or $10 for adults, $5 for children 12 and under, and kids under 3 are free.
If anyone would like to donate ahead of time, The Woodstock Fire Department is also collecting toys for the cause. Public Information Coordinator Lisa Woods has seen a few donations trickle in.
"But I think people are just starting to get into the Christmas spirit. So if you're out there and you're thinking about buying children's toys, or teenagers, or adults even, we'd be more than happy to accept those at either Parkinson Road or Van Ave station."
The Salvation Army Band will be serenading people during breakfast, and the big man himself will also make an appearance.
Lainger and Shelby will also be broadcasting live from the TA Travel Centre.
Other partners include Wasteline, Scott's No Frills, and Carman's Foto Source.