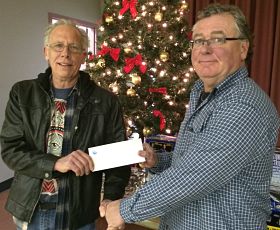 Ross Gerrie hands over a $2000 to Steve Giuliano Friday
Unifor Local 636 donate $2000 to Operation Sharing's Food for Friends Program Friday
WOODSTOCK - Unifor Local 636 has stepped up once again, to donate $2000 to Operation Sharing's Food for Friends program.
President of Unifor 636 Ross Gerrie says the money is donated by workers to their Social Justice Fund.
"Our union is alarmed at the amount of poverty in Canada -- that it's on the rise -- and more so children poverty. Each year our national union, we donate $2000, and this year it's to 46 organizations like Operation Sharing that will be able to use that money to put forward to be able to assist people at this time of year."
Gerrie says they chose Operation Sharing because they "deliver the goods at Christmas time".
Chaplain and Executive Director at Operation Sharing Stephen Giuliano says the donation is greatly appreciated every year. "It will go a long ways again this time of year to help further the cause of our Food for Friends food card programs in assisting people with a dignified and more nutritious way of making their own choices while shopping."