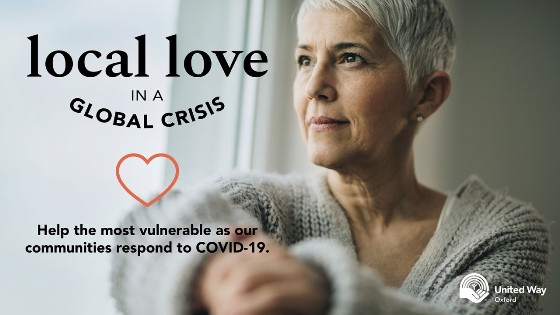 United Way Oxford has Launched a new fund to help protect some of the most vulnerable people in our community.
OXFORD COUNTY - United Way Oxford is asking the community to help support the most vulnerable, as we continue to communicate with and assist community and social service supports in response to the Novel Coronavirus across the County.
In the face of this health crisis and time of uncertainty, we are proud to see amazing acts of kindness we are seeing across Oxford County. This is a community that has come together. Neighbours helping neighbours with porch drop offs of essential needs, families posting positive messages in windows and on sidewalks, people reaching out to check in on one another - this is Local Love. We are also witnessing creative and adaptive measures by service provider's staff and volunteers as they work hard to ensure support remain available and accessible for those in need.
During this time, United Way Oxford is working with our partner agencies as well as others who are on the ground, supporting the ever-evolving, immediate needs of our community. Executive Director Kelly Gilson says they want to support our most vulnerable.
"We know that in Oxford, many people could not, and cannot, afford to adequately prepare for how COVID-19 is affecting their family. Those who already face barriers – things like food insecurity, poverty, homelessness and social isolation – need even more support during this time."
Gillson says in response to the COVID-19 Outbreak, United Way Oxford has created a COVID-19 Community Response Fund. With the support of local agencies and services, we are working to support efforts that help to serve some of the most vulnerable in our community.
"We will work with key partners, including health authorities, community organizations and front-line agencies by investing to support the communities we serve in this time of great need. It is our role to aid in the ongoing support of our community, and to ensure that the vulnerable populations are not left behind."
They ask you to please consider supporting United Way Oxford's COVID-19 Community Response Fund. All funds will remain in Oxford to help us to connect, coordinate, and assist front line agencies as they strive to meet the increasing demands in our community during this crisis and prepare for better days ahead.
They will focus investments on:
- Basic needs – ensuring people have access to life's essentials, such as food
- Capacity for community services – so community partners can deliver vital local work
- Mental health supports– enabling access to counselling, peer supports and system navigation services that
benefit us all
For more information, or to donate, please visit our website at www.unitedwayoxford.ca. Thank you for Showing Your
Local Love. We will get through this, together.