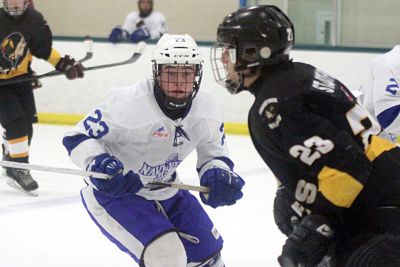 The Tavistock Braves scored in over time to take the victory.
WOODSTOCK - The Woodstock Navy Vets dropped a close game to the Tavistock Braves in a Saturday evening match up. Tavistock scored just over 3 minutes into overtime to take the game 4-3. Navy Vet Mike Gillespie had a big night for the Vets capturing a hat trick. Tavistock drew the first blood capturing a 2 goal lead going into the second period. However Gillespie responded for the Vets evening the score, until a late second period effort from Tavistock gave them the lead entering the third period.
Gillespie blocked a shot at the Vets blueline and skated in on a breakaway to score a shorthanded goal for his hat-trick goal midway thru the 3rd period that tied the game 3-3 …
Navy Vet goalie Michael Roefs faced 27 shots in the Vets net. The Vets remain in 3rd place with a 16-10 record just 6 points back of 2nd place New Hamburg.
Gillespie's goals boosted him into the league lead in scoring with 34 points including a league-leading 21 goals.
The Navy Vets next game is next Friday when the host Tavistock again at Southwood Arena at 7:45 p.m.
Junior C Hockey Scores
Ayr demolished Burford 6-2
Paris blanked Delhi 11-0